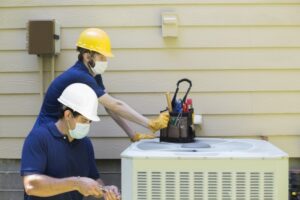 If you've followed our blog for very long, you've probably seen us mention maintenance once or twice. Okay, maybe more than that.
The thing is, maintenance is absolutely vital to keeping your heating and cooling systems in great shape. Tune-ups help your air conditioner and furnace work as efficiently and effectively as possible, for as long as possible. We typically recommend air conditioning maintenance be done in the fall since this is right before you need the system the most.
Seeing as it is now late summer and temperatures are going to start cooling down soon, is it too late to schedule air conditioner maintenance? NO, actually!
We do suggest that our customers have air conditioner maintenance done before summer begins. The truth is that it doesn't matter when you have it done as long as you're having it professionally tuned up at least once a year–twice a year if you're using a heat pump system. Consistency matters the most here. Read on to learn why you should make this service a priority in your household.