Meet the Team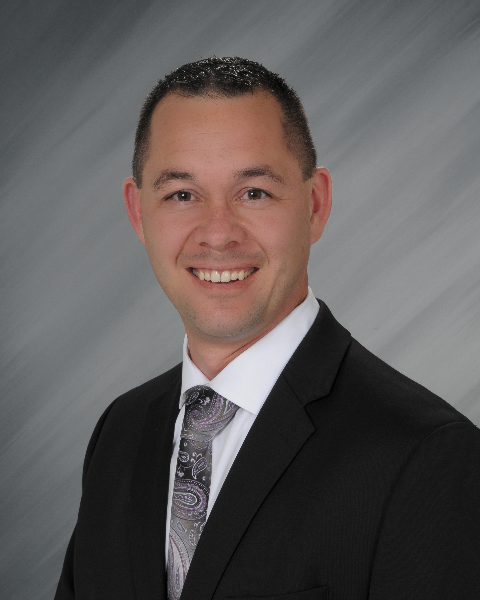 Billy
Owner & General Manager
Billy is Dalton's General Manager, has been in the industry for almost 20 years and is a Licensed HVAC Journeyman. He is EPA Universal and 32 Hour OSHA Certified, and has a degree in Financial Accounting through Harvard Business School online.
Billy creates an environment where people enjoy coming to work and feel like they can produce to the best of their ability for our customers. He watches daily profits and margins, performs employee evaluations, helps lead and grow Dalton as an organization as well as its' employees.
What Billy enjoys most about working for Dalton is learning so that he can help his teammates also become better. He loves getting better as an individual and a company while building relationships with people and making work fun. He enjoys trying to figure out how we can take customer service to the next level.
Billy and Nikki, who also works for Dalton, have been married since 2004. They have 3 daughters and 1 son for a total of 4 kids- named Ashlee, Dalis, Gabby, and Liam. He loves to watch his oldest daughter complete in club and beach volleyball. He enjoy playing all kinds of outdoor sports with his kids and looks forward to a day when the younger kids will be playing a sport they love. Billy enjoys competition, to have a nice cup of coffee and a great book that he can enjoy and learn from.
Peter
Controller
Pete is Dalton's Controller. He has a Bachelor of Arts Degree in Accounting and Information Systems from the University of Northern Iowa. He also attained a B.A. Degree in Criminal Justice from Truman State and has five years of military service in the Army.
His primary responsibilities include overseeing office operations, payroll, and all accounting functions at Dalton. Pete enjoys utilizing new technologies to improve company efficiencies.
Pete is married and has two children. In his spare time, he enjoys Crossfit and likes watching his kids in their activities.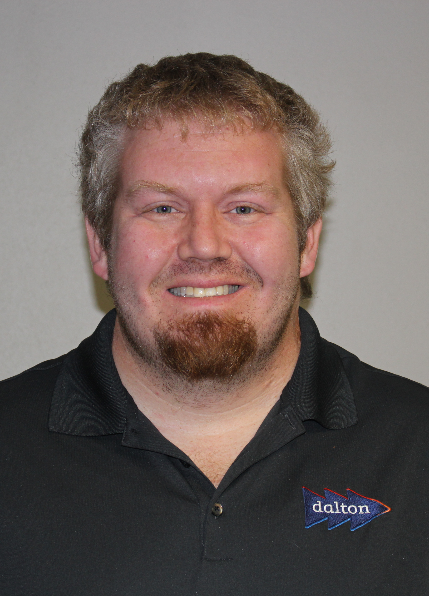 Brock
Comfort Advisor, OSHA Liaison
Brock is an HVAC Estimator, Journeyman Plumber and is our OSHA Liaison. He has a Bachelor of Science Degree in Chemistry from the University of Northern Iowa. He also has countless hours of technical, safety, legal and environmental training under his belt.
Solving problems on many levels at Dalton is very rewarding for Brock. He also likes making businesses and homes more cost effective and comfortable for Dalton customers.
Brock enjoys working with his dad, Dalton President Dave Krejchi and brother Chase. In his pastime, he likes to boat on the Cedar River with his wife Kayla and take his motorcycle out on the open road.
Chase
Plumbing Service Technician
Chase is a level 4 plumbing apprentice for Dalton. He mainly performs plumbing maintenance for our members and assists on dig jobs throughout the summer.
Chase is willing to help wherever needed and enjoys the people he works with including his father, Dave and brother, Brock.
He is the youngest in his family, has a Class A CDL, is a member of the North Shore Boat Club & enjoys fixing up his house in his spare time.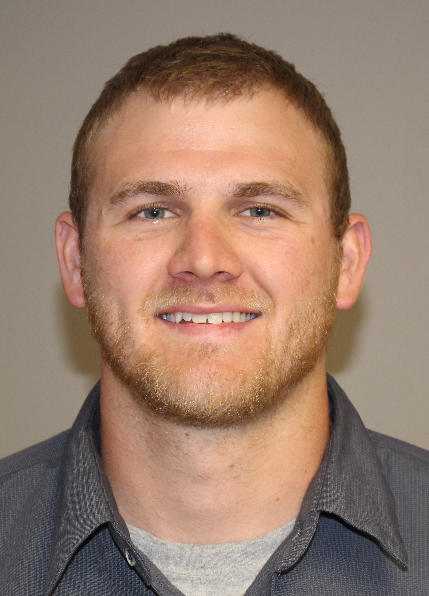 Tyler
Electrical Manager & Estimator
Tyler is Dalton's Electrical Manager & Estimator. He has his associate degree in Electrical Technologies and has seven years of electrical experience.
At Dalton, Tyler oversees crew management, estimating, installations and service work. What he likes most about his role is being able to assist others with their electrical needs.
In his free time, Tyler enjoys spending time boating, fishing, and being outdoors with his girlfriend and daughter.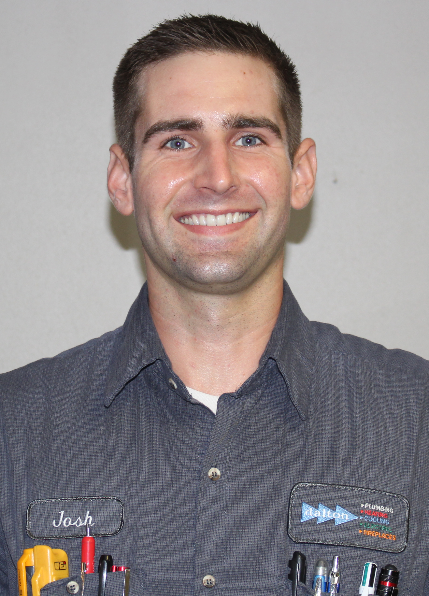 Josh
HVAC Residential Services Manager & OSHA Liaison
Josh started out in the field as a Tune Up Specialist and is now our HVAC Residential Services Manager. He is licensed through the State of Iowa as a Level 4 HVAC Apprentice, is EPA Universal certified, and has many years of experience in management and customer service.
What he likes most about working at Dalton is interacting with the people around him and helping them flourish throughout their careers.
Josh enjoys spending time with his young sons, wife and family. In his free time, he enjoys CrossFit, reading and watching his sons grow.
Pete
Semi-Retired HVAC Installer
Pete still works a day or two a week on special projects for Dalton. He is a Level 5 HVAC installer and has been with Dalton since 1983. This seasoned technician has been in the trade since 1976. He is a Licensed Journeyman in HVAC and Plumbing, as well as NATE and SAVE Certified.
The company and the customers are what Pete likes most about working for Dalton.
Pete's free time is spent kite-flying, walking in the woods, golfing, and watching his grandchildren.
Scott
HVAC Service Technician
Scott has been with Dalton since 2003 as a Level 7 HVAC Technician and Licensed Journeyman. This seasoned veteran is passionate about his work in the thermal dynamics of heating and cooling. He started in the field when he was in the U.S. Navy forty years ago as a nuclear power plant operator, instructor, service technician and quality control inspector and analyst.
Scott's main responsibilities at Dalton are to service, repair and install furnaces, air conditioners, heat pumps, boilers, geothermal as well as fireplaces.
What he likes most about Dalton is working with diverse equipment and helping customers—by listening to their problems and concerns, then diagnosing and solving their home comfort issues.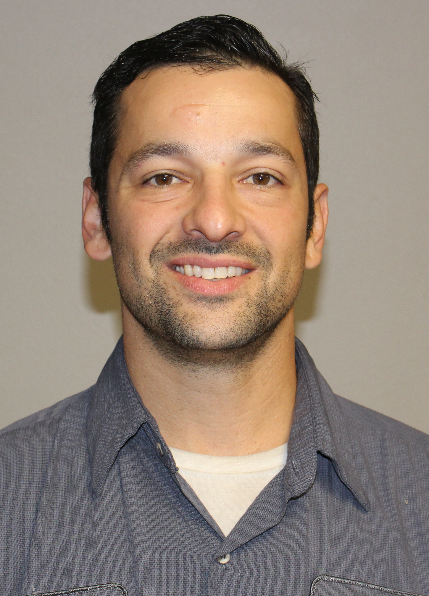 Steve
HVAC Install Manager
Steve is a Licensed Journeyman, Level 4 HVAC Installer and oversees the Install department here at Dalton. Steve has been with Dalton for over ten years. His main responsibilities include service and installation for heating and cooling equipment, lining up city inspections, and educating customers on their new systems.
What he likes most about working at Dalton is pretty simple, he likes to make people happy!
Steve is married and has two great children.
William
HVAC Service Technician
William is a Level 6 HVAC Technician and has over 25 years of experience. His education includes being a Licensed Master HVAC and Journeyman Plumber. He is a multi-skilled technician- working in heating, cooling, plumbing and new installs for us at Dalton.
What he likes most about working at Dalton is solving problems for customers in need.
William has been married for almost 40 years, has three sons- including Billy, who is Dalton's General Manager, and multiple grandchildren. He enjoys riding horses and snowmobiles in his free time.
Brad
HVAC Service Technician
Brad has his Level 4 HVAC certification and is a Service Technician for Dalton. Brad truly likes to get to know his customers and build relationships with them over the years while maintaining their equipment.
Brad is a U.S. Army Veteran and was previously a professional truck driver before joining the Dalton Team.
In Fall 2019 he and his fiancé welcomed a new addition to the family, a daughter Delta.
Jordan
HVAC Lead Installer
Jordan has his Level 4 HVAC certification and is a Lead Installer for Dalton. He earned an associate degree in Graphic Design and was an Emergency Medical Technician before joining the Dalton team.
Jordan is part of a two person install team, along with a senior technician. They install Dalton Comfort Systems- such as air conditioners, furnaces, fireplaces and various other equipment. When not on an install he runs maintenance calls.
Jordan enjoys collaborating with his fellow teammates daily. In his spare time, he loves working out and listening to classic rock.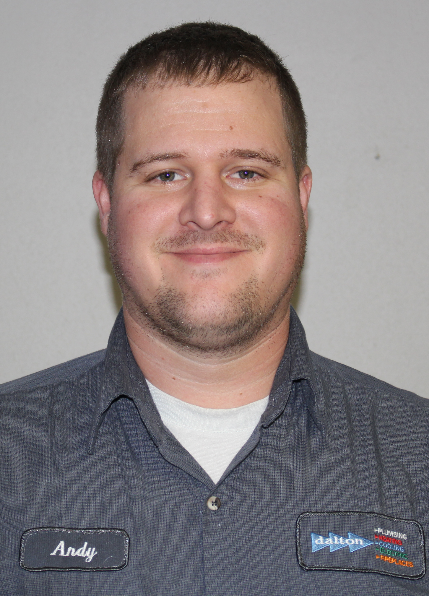 Andy
HVAC Commercial Service Manager
Andy started with Dalton in 2013 as a Plumbing Service Technician and has since switched over to the HVAC side of things. He has been in the industry since 2009 and is a licensed Journeyman Plumber & HVAC Apprentice. He is Backflow and EPA certified.
Andy's main responsibilities include maintaining, diagnosing, servicing and repairing all forms of HVAC equipment and fireplaces. He specializes in boilers, rooftop units and geos.
What he likes most about working at Dalton is the people he works around and being able to help customers.
When Andy is not working, he enjoys fishing, hiking, boating, and spending time with his wife and kids.
Chris
Apprentice Electrician
Chris has been assisting the Dalton team since 2018, when he started out as an apprentice HVAC Installer. This past year he moved into a new role at Dalton as an apprentice Electrician. His support plays an essential role in the efficiency and effectiveness of service calls for Dalton's customers.
Chris enjoys learning something new each day while installing new HVAC systems and fireplaces. He is excited to be part of a work environment that supports and encourages the furthering of his education.
Chris is a military veteran and proud father. When he isn't on the job, Chris enjoys spending time with his son. They like watching sports together and make a point to try something new each week.
Makell
Comfort Advisor
Makell comes to Dalton with a background in Office Management, exceptional customer assistance, skills and a friendly persona. Makell gives estimates for replacement of HVAC Home Comfort systems, duct cleaning and upgraded gas, electric or wood burning fireplaces here at Dalton.
The thing Makell likes most about working at Dalton, is the warm relationship she has with her coworkers and customers.
In her spare time, she enjoys watching her children participate in extracurricular activities. Makell is an avid traveler and is always on the hunt for her next vacation destination.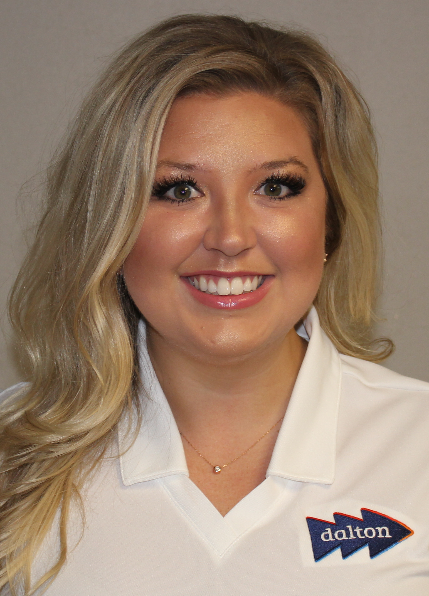 Emily
Office Manager
Emily has a bachelor's from Iowa State University in Apparel Merchandising, Creative Design, and Production, as well as minors in Public Relations, Event Planning, Journalism and Mass Communications.
At Dalton, Emily manages the day to day happenings in office and oversees the CSR's. She works with customers and technicians to coordinate timely service calls, schedule maintenance agreement visits, and debrief with technicians to accurately document their service calls.
Emily enjoys Dalton's family like atmosphere and helping her customers find home comfort solutions.
In her free time, Emily and her husband enjoy cooking, gardening, hunting, boating, CrossFit, traveling the world, attending country music festivals, plus playing with their dogs- Waylon & Loretta. They just welcomed their first child, a little girl, in June 2021.
Matthew
Journeyman Electrician
Matthew has been with Dalton for a few years, but he has been in the world of electrical work for 25 years. Of those years, he's been a Licensed Journeyman for eight of them and is now bringing those skills to the team here at Dalton!
A couple aspects of Dalton that Matthew appreciates most are the open-door policy and family environment.
A ten-year Navy veteran, Matthew enjoys doing anything outdoors – hunting, fishing, camping – you name it! His wife works for the DIA as a case coordinator, daughter is studying to be a nurse, and son is about to graduate from high school.
Kyle
HVAC Service Technician
Kyle is one of our brightest up and coming HVAC Service Technicians who is constantly learning and growing in the trade. He'll be a leader in the industry and for Dalton one day!
As a level 3 student of the trade, his job is to learn and provide service and comfort to customers to the best of his abilities. He enjoys the interaction he gets between learning from his coworkers and providing service to customers.
When he is not at work, you can usually catch him golfing, playing Dek hockey, hanging out with friends, or doing anything outdoors.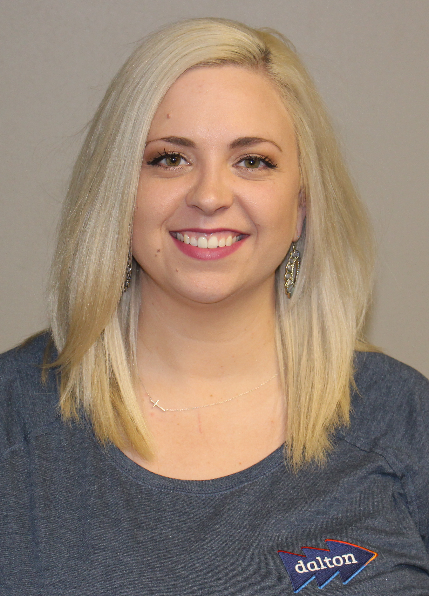 Bridgette
Accounting Specialist
Bridgette is our accounting specialist, handling both accounts receivable and payable. She hopes to help keep the business growing and enjoys making a difference for the company.
Bridgette grew up in Georgia and moved to Iowa in 2015 for family and better job opportunities. She has an adorable little boy who keeps her busy.
Justin
HVAC Service Technician
Justin joined the Dalton Team in 2017 as an HVAC Service Technician. He has his level 4 HVAC certification and uses his talents to diagnose, service, & perform yearly maintenance on HVAC equipment and fireplaces.
He looks forward to being able to meet customers and gain their trust in the quality of service that Dalton provides.
Outside of work, Justin enjoys spending time with his family and takes an interest in sports and classic cars.
CJ
HVAC Lead Installer
CJ has been in this profession for over 14 years. He worked with his dad who ran his own heating business, finished 4 years of HVAC education at PHCC, and recently obtained his mechanical journeyman license.
As an Lead HVAC installer with Dalton, CJ will be diagnosing, servicing, and installing HVAC equipment for our amazing customers. He looks forward to interacting with his fellow team members and customers. He enjoys being able to educate customers on their heating & cooling equipment, ensuring they can be comfortable, any time of the year.
CJ lives with his two dogs who double as his hunting partners. He enjoys fishing, hiking, and is an automobile enthusiast.
Brock
Plumbing Apprentice
Brock is a plumbing apprentice at Dalton. His responsibilities will include making sure customers are satisfied and providing them a clean and comfortable place to live.
He is looking forward to being able to further his education and being up to date with plumbing technology and other key skills.
Brock is the oldest of five siblings and has a wonderful fiancé, Kristin. He enjoys fishing, hiking, sports, grilling, music, cooking, family get-togethers, and can talk about nearly anything for hours if you give him the time.
Lance
Plumbing Supervisor & Estimator
Lance has over 30 years of experience in the plumbing industry, as well as construction and maintenance. During that time, he became licensed as a Journeyman Plumber.
At Dalton, he will be working with customers to fix any plumbing issue they may have and providing options for them to choose a permanent solution. Getting things done the right way is crucial. He enjoys the respect and appreciation he receives from the whole team and getting to see the smiles on clients' faces when their plumbing is working the way it should again.
Lance has been an avid storm chaser for over 35 years and knows how to pay close attention to detail. He has four girls and one boy.
Henry
HVAC Maintenance Technician
Henry has been with Dalton for over a year and is an HVAC Maintenance Technician in training. He is honing his craft, learning from the best and enjoys meeting all the different kinds of customers.
Henry loves to cook, has a passion for watch collecting and currently lives in Cedar Falls with his girlfriend.
Casey
HVAC Installer
Casey has been in the HVAC trade for almost 3 years and is OSHA Certified. He installs furnaces, ACs, heaters and fireplaces and loves to learn about new things and installation techniques.
When he's not working, Casey enjoys fishing, hunting and riding his motorcycle.
Jake
HVAC Maintenance & Service Technician
Jake is a HVAV technician who focuses on system maintenance to keep equipment running at peak performance & has recently started taking on service calls. He loves the ability to learn something new every day while out in the field.
Outside of work, Jake enjoys being at the gym and the outdoors. He is also a Certified Personal Trainer.
Kathy
Customer Service Representative
Kathy started as a Customer Service Representative for Dalton in 2020. She has been working in customer service for many years and really enjoys it. She loves helping people solve their comfort problems and enjoys connecting with customers.
Kathy is a retired kindergarten teacher and loves spending time with her grandchildren and attending all of their games and events!
Seth
Apprentice Plumber
Seth is an Apprentice Plumber hired in 2020. He enjoys the role and opportunity to learn something new every day.
Seth has a one year old son and enjoys spending time with him and his older brother, younger sister and parents.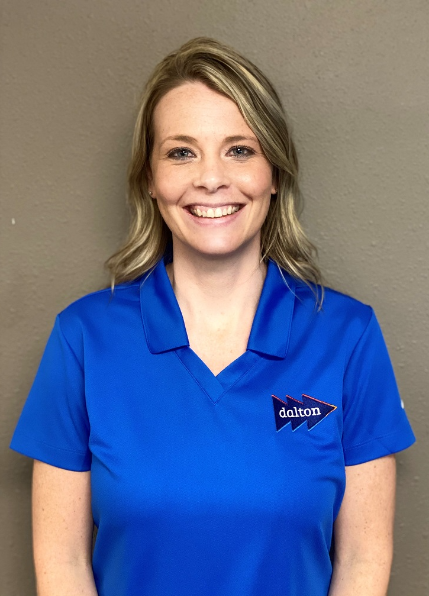 Nikki
Customer Service Representative
Nikki is a Customer Service Representative that started in 2020. Prior to joining Dalton she was a stay at home mom and worked at Allen Hospital. Her role includes answering the phones and scheduling HVAC, Plumbing and Electrical calls and favorite thing about the job is talking to people in need of assistance.
Nikki is the wife of Billy Pierce, Dalton General Manager, and they often travel together. Nikki and Billy have 4 children and are devoted to their growing family!
Meghan
Customer Service Representative
Meghan has been working in the customer service industry for over 11 years, and started with Dalton in 2021.
Prior to working with Dalton, Meghan worked as an Area Manager for a National Franchise for 10 years.
At Dalton, Meghan works with Customers and Technicians to assure that all Customer needs are met in a timely manner.
Her role includes answering phones, scheduling ,and building trust and relationships with clients. Meghan's favorite part about working at Dalton is the Family friendly atmosphere, and the opportunities she gets to help people each day.
Meghan has a bright and handsome 8-year-old and a dog who keep her on her toes.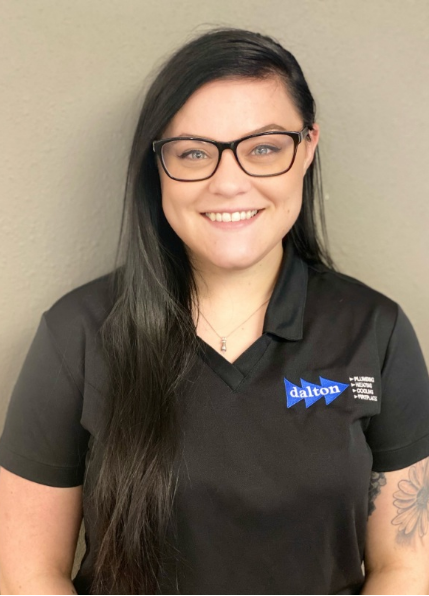 Taylor
Customer Service Representative
Taylor joined the Dalton team in 2021, and has worked in the service industry since 2012. She answers phones, coordinates technicians, schedules service and maintenance calls, and customer requests on behalf of Dalton.
Taylor really enjoys helping people and giving the best customer service that she can.
Taylor likes to spend time with her cats and husband, Conner, on weekends. She enjoys watching movies, going to concerts and spending time with family as much as she can. Her free time is spent drawing and playing video games.
Sam
Plumbing Apprentice
Sam has been an apprentice plumber here at Dalton since 2020. Although he is new to the profession, Sam is learning quickly and becoming a stand out with our customers.
He was a medical transportation driver previously and enjoys problem solving and helping people. His favorite thing about working at Dalton is diagnosing the issues within a customers home and finding solutions to keep customers comfortable.
Sam grew up in Cedar Falls, but left for several years to play hockey at the Junior A level. He enjoys golfing, fishing, spending time with his family, girlfriend and dog.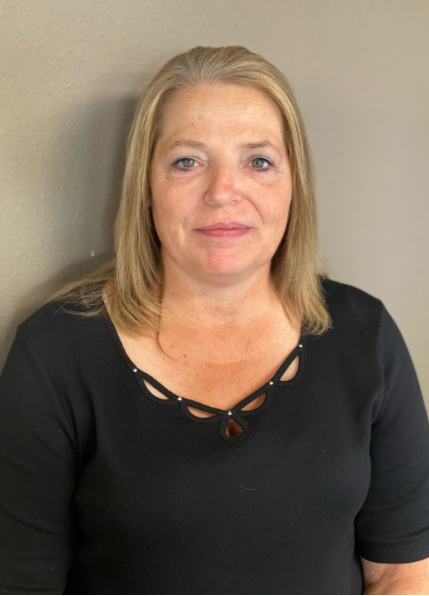 Melissa
Customer Service Representative
Melissa came to Dalton in 2021 as a Customer Service Representative with over 30 years of experience. Prior to working with Dalton, Melissa was a Human Resource Assistant and Business Manager.
Her favorite part about Dalton is that we care about our customers and employees, treating them like family.
Melissa has been married to her husband for seven years, has two sons, one daughter, a step-son and seven grandchildren. In her free time she likes to spend time with her family and friends, ride her motorcycle, go camping and do craft projects.
Cody
Apprentice HVAC Installer
Cody is one of Dalton's newer apprentice HVAC installers, starting in early 2021. He helps with the installations of fireplaces, heating and cooling systems, ductwork, and duct modifications. Cody has an associate's degree in Automotive and Diesel Technology, and worked in an automotive center for a large local car dealership and national foundry before coming to Dalton.
The people and the atmosphere are what he likes most about his role here at Dalton. Cody is very eager to learn and grow in the HVAC trade and is excited for the opportunity to serve and help customers in the community.
Cody and his loving wife, Lauren, have been married for 6 years and have a 5 year old son, Greyson. They enjoy spending time with their families, kayaking, bike riding, and being outdoors.
Jesse
Plumbing Apprentice
Jesse joined the Dalton family as a plumbing apprentice in 2021. His previous experience is in construction, so Dalton is a great fit for him.
His main responsibilities include diagnosing and solving plumbing problems, as well as performing maintenance visits. Being able to help people and work with his hands everyday are what he likes most about being a plumbing apprentice.
Jesse is currently building a family farm in the woods with his wife and infant son. His favorite thing to do are woodworking, home improvement, and spending time with his growing family.
Brad
Plumbing Technician and Estimator
Brad is a plumbing technician and has recently taken on estimating minor plumbing jobs for Dalton. He's been in the plumbing profession for around a year but was a commercial construction worker previously.
He enjoys helping people and making their day a little better by solving their plumbing issues.
Brad has a beautiful daughter that he spends most of his time with, and is expecting another daughter in July with his fiancée. He spends most of his time looking for rocks with his daughter; as she has a big collection of fossils, plus playing with his dogs and going paintballing.
Lindsey
Plumbing Technician
Lindsey joined the Dalton team in 2021 as a plumbing technician. Although she may be newer to the profession she has always done all of her own home repairs. She is not afraid to try new techniques or ask for help in gaining information to do a job properly.
If you ask Lindsey what her main job responsibility is, she will first and foremost say Customer Service. Her main concern is customer's satisfaction in her work and the peace of mind that she can provide them. She enjoys being hands on and loves that no matter how much experience and knowledge that one has, they are constantly learning out in the field.
Lindsey loves spending time with her son, as family is very important to her and she cherishes every moment with them. She kayaks, plays disc golf, watches movies, listens and makes music in her free time. She also enjoys cross stitching, reading, doing home projects, yoga and going to the gym.
Amanda
HVAC Tune-Up Specialist
Amanda is our newest HVAC tune-up specialist. Her main focus is on AC and Furnace system maintenance in order to keep the equipment running in tip top shape. She is a licensed pest control applicator and previously worked for a national pest control company before joining the Dalton family in 2021.
She enjoys learning something new everyday and meeting new customers.
Amanda spends her pass time hanging out with friends, kayaking, and attending her child's volleyball and softball events.
Brian
Plumbing Technician
Brian joined the Dalton Plumbing Team in early 2021 and has been in the skilled trades for over 10 years.
He is a natural problem solver and strives to fix customer issues to the best of his availabilities. His favorite part of his role here at Dalton is that every day is different and that he gets the opportunity to figure out solutions for our customers.
Brian spends his free time doing home projects, camping, back packing and spending time with his family.
Cameron
Journeyman Plumbing Technician
Cameron came to Dalton in 2020 with over 10 years' experience in the plumbing field. He has his journeyman license and is a service plumber for us.
His favorite thing about working for Dalton is meeting all the new people and being able to solve their plumbing woes.
In his free time Cameron enjoys creating jewelry and taking photographs. You can find him expanding his fish and scorpion collection.