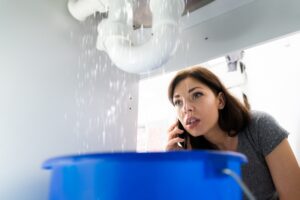 Our professional plumbers have been in the trade for a long time, and we have seen what can happen when you have the wrong home services "professional" in your home, whether it be for your HVAC, electrical, or plumbing needs.
Plumbing, especially, can be quite complex, and even something as seemingly simple as unclogging a drain can bring up unexpected surprises that you'll only want a trained professional to manage (trust us). Still, we understand the temptation to hire a general handyperson, or to even take the offer to help from a friendly neighbor.
We can't stress, though, how important it is that you choose a licensed and insured plumbing contractor when you need any kind of work on your pipes or plumbing appliances. You may think you're saving money but in the long run, hiring the wrong person for the job can cost you more.