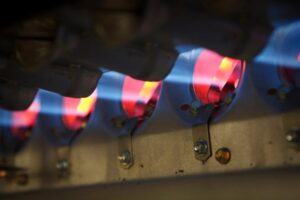 If you're like many homeowners in our area, you are likely using a gas-powered furnace in your living space. This is, after all, the most commonly found heating system in homes throughout the country, and the Cedar Falls area is no exception.
Furnace use is cost-efficient, and using a furnace is a fantastic option for many homeowners. However, while they are not inherently dangerous, when you use an appliance with natural gas in your home, there is always the slightest risk of toxic gas leaks or combustion problems. The main concern in preventing this when it comes to your gas heater is protecting the heat exchanger.
A cracked heat exchanger should always be taken seriously. If you suspect you might have a cracked heat exchanger or if you have an older furnace that hasn't had maintenance in the last year, then please give us a call right away! Otherwise, read on to learn more about this component and the harm of a damaged one.