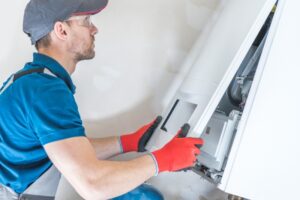 One of the most commonly asked questions we get when it comes to installing a new heating system is "Which one is best for me?" There are so many options on the market today that it can seem pretty overwhelming to make choice, but we're here to help! It first helps to choose what kind of heat you want.
What?! you might be wondering at this point… bear with us!
There are two main types of heating systems when you think about it… a forced-air system such as a furnace or heat pump, or a radiant heater such as a boiler or in-floor system. Each of these system types has its benefits, and finding the best one for your specific home and needs depends on a number of factors, which we can help you with. Read on to learn about the key differences!