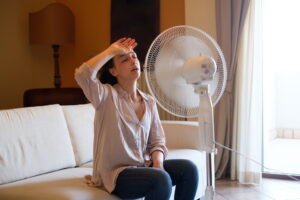 If there's one universal law we deal with on a regular basis, it's that heat rises. No matter where you are or what you're doing, the heat you create or encounter in your life will always drift to the upper area of your home. It's really that consistent.
However, homes are a little different. For one, we treat them to be cooler or warmer than the outside depending on our comfort preferences. Your air conditioner, for instance, is designed to cool all of the space in your home so that the air feels good, even the upstairs air.
So, if there's an issue with a hot upstairs in your home, then you might have a problem with your air conditioning in Cedar Rapids, IA. Keep reading or call our team to schedule an appointment and figure out what's going on.
Utilize a Ceiling Fan
Firstly, there are many conventional ways to deal with a hot upstairs that homeowners sometimes forget about. One of those ways is with a ceiling fan!
Before you scoff at this tip, remember that we're dealing with laws of thermodynamics. Heat rises, and there's not much you can really do about that law. But what if you could push that heat away and circulate cool air?
Fans, especially ceiling fans, do an excellent job at cooling off a room. Just by circulating air, they don't reduce the temperature of the room, but they make a room feel cooler than it is. That's because circulating air currents help sweat evaporate off of our bodies, cooling us down and making us feel better. This is one efficient and effective method of reducing the heat of your upstairs.
Get Your AC Inspected By a Professional
When was the last time you had your air conditioner inspected, maintained, or fixed by a professional technician? This could be the source of your problem. Let us explain.
Air conditioners are sized to fit an appropriate amount of air volume in your home. If your home ever expands or shrinks, it could lead to serious problems and entire areas of your home feeling uncomfortable and under-appreciated.
For many homeowners, they recently walled in an upstairs porch, had a new room constructed, or started cooling their basements with the same system. This means that more stress is being placed on the air conditioner, causing it to lose some of its power.
You might need to have your AC replaced with one large enough to adequately cool your home, or your system might just need to be fixed.
Upgrade Your Thermostat
Your old thermostat is likely not doing a very good job of monitoring the temperature of your home if it's on the first floor only. Temperatures might cool off down there but your system isn't going to know that the upstairs is still way too hot.
Why not get your thermostat replaced, and while you're at it, get it installed somewhere more neutral like on the stairs or in your bedroom, so it's getting a more accurate temperature reading of your home.
At Dalton Plumbing, Heating, Cooling, Electric and Fireplaces, Inc., your comfort is our promise! To set up an appointment in the Cedar Rapids area, give us a call at the number above, email customerservice@daltonphc.com or schedule an appointment online.