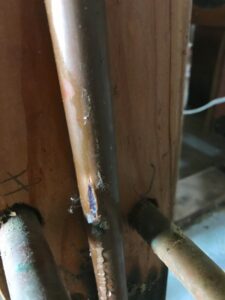 If you've lived in Idaho for even just a year, then you know we've had some pretty cold winters! And when winter comes along, you're likely pretty consumed with staying warm in your home.
But, are you ensuring that all areas of your home are staying warm? Specifically, have you given much thought to your plumbing system?
When temperatures dip below freezing, the water in your pipes–especially exposed pipes–is likely to freeze as well, without proper precautions. The problem isn't so much the freezing, but what happens as the pipes thaw… it creates a negative pressure that eventually leads to the pipes bursting.
The good news is, this damage can be prevented! Read on to learn how to avoid your pipes falling victim to cold weather this year.
Keep the Garage Door Closed
It's essential that you keep everything tightly sealed in cold winter weather. So, ensure that your garage door stays closed during the winter, and keep it closed as much as you can. This will help make sure that the water supply lines in your garage keep flowing.
If you have a sink in the garage, consider turning off the supply valve for winter and draining the faucet.
Plan Ahead for Time Away by Keeping the Heat On
Chilly weather during the wintertime leads a log of families to warmer locations. If you, too, are heading to greener pastures this fall or winter, ensure that you plan ahead and keep your home at a comfortable temperature using a programmable or smart thermostat set at above 50°F
This applies to the day to day too. We understand it's tempting if you and your family are at work and school all day, to leave the heater off since nobody is there to enjoy it anyway. But not only does this leave your pipes susceptible to freezing, it's actually less efficient for your heater, since you'll have to run it longer once you do arrive back home to get your home warmed up. 
Use Pipe Insulation
Have a basement? If it has exposed pipes, be sure to insulate them. You can find pipe insulators at just about any hardware store. "Pool noodles" work too! They're made from the same material, the pipe insulators are precut to fit easily over the pipes.
Open The Kitchen and Bathroom Under-Sink Cabinets
Have you ever noticed when you go to grab something under the sink during the winter, it's cold? This is because the heat from your furnace or heat pump can't reach that area since the cabinet doors are shut. Oftentimes, the exposed pipes under the sinks lead to a portion of your plumbing in an outside-facing wall, inviting even more cold.
So, a good wintertime hack is to leave these cabinet doors cracked open, if even just a little bit, to bring in that warm air and prevent your pipes from ever having the chance to freeze.

At Dalton Plumbing, Heating, Cooling, Electric and Fireplaces, Inc., your comfort is our promise! To set up an appointment, give us a call at the number above, email customerservice@daltonphc.com or schedule an appointment with a North Liberty plumber online.