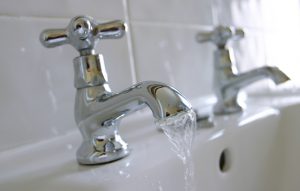 It can be fairly difficult for the average homeowner to detect whether or not their plumbing system is in good condition at any given time. In fact, you probably prefer not to think about your plumbing system at all, so long as it continues to work for you the way it always does, right? Out of sight, out of mind! This isn't the best approach to take with your plumbing system, though.
Of course, whether you're looking to prevent problems or have an emergency, you can turn to us for highly trained, professional plumbers in Evansdale, IA. In the meantime, though, we'd like to help you minimize plumbing damage by informing you of warning signs you should watch out for—if you notice any of these, give us a call!
A Drop in Water Pressure
Declining water pressure is one of the more apparent signs that something is amiss with your plumbing system. It's usually caused by one of two possible things—a leak, or a blockage. The more sever the leak or blockage is, the more water pressure you'll lose.
A steady decrease in water pressure most likely indicates that the issue is gradually progressing—it might be a pinhole leak or even lime scale buildup. Sudden water pressure, however, can mean something a lot more serious. In the absence of an obvious emergency, you should first call your municipal water supply company to see if they're doing any work. If not, then you could have a pipe rupture and you should call a plumber right away.
Unusually High Monthly Bills
Check your water bills—have they started to rise from month to month, despite the fact that you aren't using that much more water? Then you may want to have a professional plumber take a look at your system. Sudden increases in your water bills might mean that water is leaving your plumbing system somewhere it shouldn't be.
One way to confirm if this is the case before calling in a plumber is to turn off all your plumbing appliances, and then take a look at your water meter. If it's still running, then you most likely have a leak somewhere in the system. You'll need a professional plumber to help determine where exactly it is, and how severe it is.
Water Damage
This is going to be the worst case scenario, but still warrants mentioning. Sometimes this is really the first sign that homeowners notice that there's a leak in their plumbing system. This is often the scenario with pinhole leaks, which are very small and often don't generate any obvious symptoms—at least, not right away.
If you spot water damage on one of your walls, your ceiling, or your floors, it's a good idea to call in a service professional right away. Unfortunately, visible water damage often implies much more extensive damage beneath or behind where you're seeing it. Our plumbers will be able to patch the leak causing the damage.
At Dalton Plumbing, Heating, Cooling, Electric and Fireplaces, Inc., your comfort is our promise!
To set up an appointment, give us a call at the number above, email customerservice@daltonphc.com or schedule an appointment online.