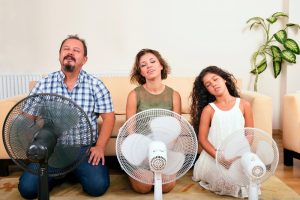 Temperatures may be slightly cooling down around here, but that doesn't mean we're quite out of the woods yet with our summer temperatures. You've probably been using your air conditioner on a pretty regular basis for the past few weeks, and as such it's only natural that you'd like to find a way to cool off that doesn't require spending so much on energy bills!
Perhaps the better question, however, is rather than how to lower your AC use, how to get the most out of your air conditioner and how to stay cool otherwise, to reduce your reliance on your cooling system, and therefore reduce your cooling bills. Of course, when you do need air conditioning services in Janesville, IA, we are the team to call. In the meantime, we've shared some helpful tips below.
Caring for Yourself and Others
Keeping cool in the summer isn't just about making sure that your air conditioner is working effectively, or even that it's on at all. You want to make sure you are caring for yourself and your family by:
Avoiding strenuous outdoor work—even if you start when it's a bit cooler, you'll find that it's harder to cool off later on when temperatures rise.
If you do work outside, be sure to take plenty of breaks and to hydrate often.
Listening to your body and learn when you need to rest.
Wearing light-colored and lightweight clothing.
Checking on elderly family members, neighbors, or anyone without AC.
Never leaving a child or a pet in a car during summer—even just above 75 degrees, parked in the shade, your car can reach up to 100 degrees within 20 minutes.
Caring for Your Air Conditioner
Alright, now for the slightly more technical tips. Of course, we recommend investing in routine maintenance before summer even hits—to ensure your cooling system will work as efficiently and effectively as it's meant to all season long. But there is more you can do beyond this, such as:
Turning off the AC at night and instead opting to open windows.
Closing your shades or blinds to keep out heat gain from the sun.
Avoiding the use of heat-producing appliances during the day, such as your dishwasher, washing machine, and oven if at all possible.
Going to spaces such as the library or shopping mall to take advantage of their free AC (and in the meantime leaving your AC at home set to about 78 so it's still cool when you get home, but not colder than it needs to be in an unoccupied house).
Visiting a local pool or indoor ice rink to cool off.
Utilizing your ceiling fans to help distribute cool air throughout the home.
Turn Up the Temp!
You'll notice one of the tips we mentioned above refers to the temperature settings for your air conditioner. The truth is, turning down the temperature as low as it will go, regardless of whether you're home or not, will not actually cool you off any faster. Rather, it wastes unnecessary energy.
Most people can be comfortable with the temperature set at 78 degrees (keeping in mind that kids who exert a lot of energy or the elderly may require a lower temperature). Overall, keeping the temperature around this setting during the daytime and turning it up a bit when you aren't home can help you save significantly on energy costs.
At Dalton Plumbing, Heating, Cooling, Electric and Fireplaces, Inc., your comfort is our promise! To set up an appointment, give us a call at the number above, email customerservice@daltonphc.com or