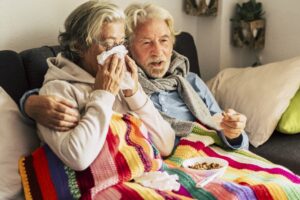 It's allergy season! We don't mean to sound excited about that, but in truth when you take the "allergies" out of springtime, it truly is one of the most beautiful and fun seasons of the year. The flowers are blooming and look brilliant, while the sun is starting to peek its head out later and later with every day. There's just so much time for fun activities, and the weather is even getting better.
However, once you put the allergies back into the springtime, it can be a nightmare for some people. That's why we're the go-to indoor air quality service provider that can help eliminate things like allergens and biological contaminants in your home.
With the help of an air filter and a UV air purifier in Cedar Rapids, IA, you can take control of your home during this season and feel comfortable again.
Better Home Scent
Nothing feels better than a home that's been taken care of. Whether you've done some cleaning recently, or you just lit a wonderful new candle, people really appreciate when their noses can pick up on delightful scents, or the lack of foul odors.
Unfortunately, many times the bad smells are not really our fault. Bathrooms, kitchens, and even basements can hold foul odors that we never really consented to, but it's still up to you to eliminate them so people (including you and your family) can feel comfortable at home.
An air filter can catch large particles like dust and debris that might make your air feel stuffy and uncomfortable. A UV air purifier will also treat any of the biological contaminants, like viruses or mold spores, taking away some of the odors that would otherwise make your nose twinge.
We recommend coupling these two devices together to get maximum home comfort and treatment.
Fewer Allergies or Biological Contaminants
When we mentioned the UV air purifier, we briefly talked about biological contaminants. But things get a bit more complicated.
Allergens are a contaminant that we deal with every springtime. They're released by plants and trees but they can be bothersome for our respiratory systems and cause a whole host of illness symptoms for people. Luckily, these particles are large enough to be caught by even conventional filtration devices, making your home prime for a filter.
Also, some of these allergens are mold spores, which are directly treated by the UV light of an air purifier. This means there are solutions available right now that can help with your allergy problems.
Remove VOCs and Man-Made Pollutants
Sometimes people have allergic reactions to VOCs, which are a type of man-made pollutant. These include things like spray paints, cooking smoke, and bits of styrofoam that are almost invisible to the naked eye, but are still not great for our respiratory systems.
Air filters can be tasked with picking up the large particles in the air, only allowing the fresh, clean air through. It doesn't matter what the contaminant is, it's likely too large to fit through the screen of an air filter, which means you don't have to deal with it anymore.
At Dalton Plumbing, Heating, Cooling, Electric and Fireplaces, Inc., your comfort is our promise! To set up an appointment in the Cedar Rapids area, give us a call at the number above, email customerservice@daltonphc.com or schedule an appointment online.