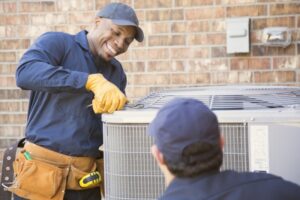 One of the last things you want to do when you notice an AC problem is wait to schedule your AC repair. We understand how busy life can get. It's not like you're waiting around idly for a repair problem to pop up, instead, you're living your life and you might notice an air conditioning oddity here and there. When you notice that something is going wrong, we're going to be the ones to help you with this.
We specialize in air conditioning repair in Cedar Rapids. Today, we want to spend some time underscoring why it's so important for you to address your air conditioning concerns as soon as possible. We're available to help you with everything that you need from our team of professionals.
Why You Shouldn't Wait
The main reason that you should wait to schedule an appointment for air conditioning repair is because it only allows the opportunity for the current air conditioning repair problem to grow worse.
Think about it like this, you might notice that you're having trouble with your air conditioner at the top of the season. You might notice high air conditioning repair bills, weird sounds, or any other issues at the top of the summer. Once you notice these oddities, you might think that you can power through them for the rest of the summer. Although this might be a possibility, it's definitely not the wisest route to take. What you're doing when you choose this route is greatly increasing your chances of an entire system breakdown. We don't want this to happen in your home which is why we strongly recommend prompt service no matter what.
What Are The Signs of an AC Repair Need
These are signs that you have an air conditioning repair need that's worth calling a professional over.
High Energy Bills
Have you noticed that your home's energy bills are higher than they ever have been before? This is a sign that you should get in touch with professionals. What you're likely working against is some level of inefficiency. Our professionals can pinpoint this issue and help you get your system back on track.
Low AC Output
If you're struggling with getting cool, then you should definitely schedule an appointment for air conditioning repair. You should always be able to cool if you have a working air conditioner at home. Anything less means that you're having capacity issues. You might be having trouble with the size of the air conditioner. If the unit is undersized, then we suggest talking to our professionals about potential upgrades.
Weird Scents
While some air conditioners might make a little noise and this is normal, you should never notice weird scents in your home. If you are starting to notice that things are smelling a little funky at home, then you should absolutely check in with your home's air conditioner. There's probably something building around your home's coils and we can help you solve the issue.
At Dalton Plumbing, Heating, Cooling, Electric and Fireplaces, Inc., your comfort is our promise! To set up an appointment, give us a call at the number above, email customerservice@daltonphc.com or schedule an appointment online. Reach out today to set up a visit from a technician in Cedar Rapids to clear out your ductwork testing, repairs, and more.