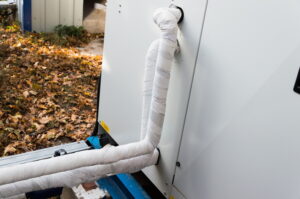 Sometimes, we get a phone call from a homeowner who is worried that they have a major plumbing leak in their home–only to discover that the issue is actually a leaking air conditioner. AC systems can leak water, but not because your plumbing system is malfunctioning. Instead, it's the result of condensation building up within the system, and spilling out due to there being a problem with the drainage system.
Depending on where in your home the air conditioner's indoor unit is, the results of a leak can become a huge problem, causing property damage and more. So, what should you do if your air conditioner springs a leak? And is it possible to prevent this from happening in the future? Read on as we uncover the answers to these questions.
Where Is the Water Coming From?
Water leaks in air conditioners happen when condensation is not draining as it should. We've all seen condensation build-up before, such as what happens when you have a glass of ice water out on a warm day. Small water droplets collect on the system's evaporator coil due to the humidity in the air that condenses as it passes over the cool coil.
This is a normal part of your air conditioner's operation. So of course, air conditioning systems were designed to get rid of the condensation that could otherwise leak into your home. A drip tray sits below the coil, and it is set at an angle with a drainage hole located at the bottom. This hold leads to a pipe that should enable water to drain outside of your home.
This Is What's Wrong with the Condensate System…
If water isn't draining properly, there could be a few potential things going on.
The condensate drain is clogged, which is forcing water to overflow from the drip tray.
Your air conditioner's drip tray is cracked, improperly angled, or is off-center.
Increased humidity and frequent AC use means you need a condensate pump to get rid of excess moisture.
Ice is developing along the evaporator coil and thawing too quickly, a problem that also has a number of potential sources, including a clogged filter.
What You Should Do
Of course, the very first thing you should do if your air conditioner has a problem that is causing damage to your home is shut the system off. Next, you should give our team a call so our qualified technicians can help. We can effectively clear out your clogged condensate drain and see how this problem can be avoided in the future.
While you wait for a professional to arrive at your home, it's a good idea to clean the area where the leakage occurred. Otherwise, you could risk mold and mildew development which can impact your indoor air quality, and consequently your family's health.
At Dalton Plumbing, Heating, Cooling, Electric and Fireplaces, Inc., your comfort is our promise! To set up an appointment, give us a call at the number above, email customerservice@daltonphc.com or schedule an appointment online for expert air conditioning services.