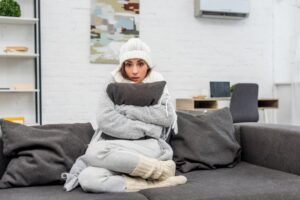 Winter is right around the corner, and we want to help you be prepared! Hopefully you've already taken a step toward winter prep by having your heater tuned-up. If you have a furnace, this means scheduling an annual maintenance session. If you have a year-round heat pump system, this means having maintenance done twice a year.
But what if you've had maintenance done and you just don't feel like your heater is keeping you warm as it should? Well, it may be that you need a heater upgrade. We're happy to talk to you about your options! Another possibility is that you simply aren't using your heating system as efficiently as you could be. Read on as we share some heating efficiency-boosting tips.
Get a New Thermostat
Not just a new thermostat, but make a thermostat upgrade! We get it, this seems like a really small an insignificant component, but your thermostat has a big job. The thermostat serves as the brain of your heating system (and cooling system, for that matter) and allows you to communicate with these systems to keep comfortable throughout the year.
Even upgrading to a basic digital thermostat from the old manual slider one is a step in the right direction. You may even consider going with a Wi-Fi or smart thermostat.
Use Weatherstripping to Keep Drafty Weather Out
The heat from your furnace or heat pump can easily seep out through cracks in your windows or doors. This means you'll be losing energy, but still paying for that energy use. You might want to consider investing in some simple weatherstripping to seal up the windows and doors, and make sure the heat in your home actually stays in your home.
Utilize Your Ceiling Fans
This may seem like a strange wintertime tip to share, but bear with us! Yes it's true, in the summertime you use your ceiling fans in combination with your cooling system. This helps better distribute the cooled air so you can turn up the thermostat and give your air conditioner a break.
Well, the same concept applies to your forced-air heater. There's a switch in the middle of your ceiling fan that allows you to reverse the direction of the fan blades. In turn, this pushes the warm air from your heater down from the ceiling and allows you to turn the thermostat down.
Really, Schedule Maintenance!
We really cannot overstate the importance of this service. Routine maintenance sessions for your furnace or heating system is the leading way to ensure that the system works as efficiently and effectively as possible, for as long as possible.
During your maintenance session, our professional will fully inspect your heater for any potential repair needs. We'll make adjustments, and we will comprehensively clean the system. Each of these steps ensures that the furnace or heating system performs at its best.
At Dalton Plumbing, Heating, Cooling, Electric and Fireplaces, Inc., your comfort is our promise! To set up your Waterloo, IA heating services, give us a call at the number above, email customerservice@daltonphc.com or schedule an appointment online.