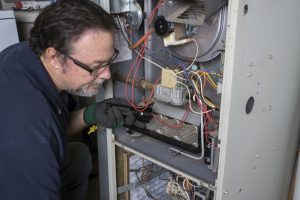 Relatively speaking, our weather is fairly predictable year after year. Yes, we certainly do have cold winters, but we can pretty much count on warmer temps coming in late April, early May. A time when we will be turning our attention to our home air conditioners and ensuring they're well maintained. This is a great idea, but you certainly shouldn't ignore your furnace this time of the year, even if you're not going to need it for much longer. This is particularly true if it's been showing any problematic symptoms.
Ignoring any kind of furnace problems can cause a domino effect until you're facing a much bigger issue that leaves you with a broken down heater when you need it the most next fall. Depending on the circumstances, ignoring furnace repair needs could also leave you with a malfunctioning air conditioner, too. But how do you know if you have problems that need addressing? Read on as our furnace repair experts uncover some of the common symptoms of furnace malfunctions, and tips on how to manage them.
Take Notice of a Drafty Home
Have you discovered that your household isn't heating up as fast as it used to, or you're finding cold spots in certain areas of your home? If so, it may be that your heater is declining in performance and operation.
It's also possible that something else is going on with the overall system, like a miscalibrated thermostat or damaged ductwork. These problems will also affect your air conditioner this spring and summer, so you'll want to manage them right away.
Listen for Strange Furnace Noises
No matter how minor the noise might seem, if your heater is making a sound you don't recognize, it's a good idea to pay attention. A few noises in particular that should warrant a repair call right away include a mechanical clanging or banging, hissing or clicking, or even just general noisy operation.
Watch Your Energy Bills
It's only natural that your energy bills are going to be higher at peak times, such as the middle of winter and the middle of summer. What you want to look at, however, is if these bills align with what you were paying last year, with comparable use. If they're much higher than they should be then it's a sign that something is causing your furnace to operate inefficiently, and you'll want to have this checked out right away.
Beware a Short-Cycling Heater
Short-cycling is the process where your HVAC system turns on and shuts off rapidly, increasing the wear and tear on your system. It's worth mentioning that if you have a relatively newer furnace and have always experienced this problem, it likely means that the system is too big for your home. Be sure to talk to our furnace repair professionals if this is the case! If you have an older furnace, there are a number of things that can cause short-cycling, and you should certainly talk to a pro right away.
At Dalton Plumbing, Heating, Cooling, Electric and Fireplaces, Inc., your comfort is our promise! To set up an appointment, give us a call at the number above, email customerservice@daltonphc.com or schedule an appointment online.