Dry air in your home isn't just uncomfortable, it can cause issues for your health and quality of items in your home. Rather than suffer through the winter months with itchy skin and warped wood floors, we suggest installing a whole-home humidifier. Here are just a few of our favorite benefits that a system will give you and your home.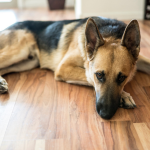 Preserve Your Floors and Home
Are you proud of your home's original hardwood floors? We love the look and feel of hardwood, but it requires more TLC than other types of flooring, especially when it comes to your home's humidity. With air that's too dry, your flooring and furniture will shrink, warp and crack. Even worse, paper keepsakes like photos and books become brittle and crack.
Whole-home humidifiers maintain your home's humidity to a safe and comfortable level between 30 to 50%. Within this safe range, the wood, paper, electronics, and drywall in your home are better protected and better preserved.