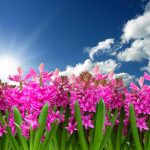 We know that during the winter it's easy to hibernate instead of doing routine chores around your home. However, now that the coldest days of winter are behind us, it's time to roll up your sleeves and get to work on your home maintenance.
Don't worry! You don't have to comb the internet to find out which tasks need to be done this time of year, because the Dalton team is here to help. We have the expertise to assist you in sprucing up your home and getting it ready for summer. Take a look at the items we have on our helpful spring home maintenance checklist.
Call Dalton for your Preseason A/C Tune Up!
Any time is better than never, but we think spring is the ideal season to get your A/C tune-up. A preseason tune-up will cut cooling costs, lower the risk of future breakdowns and need for repair, and keep your system running longer.
Get a Chimney Checkup.
We suggest having your fireplace inspected and cleaned at least once each year, especially if you use it on a regular basis. Your Dalton technician will ensure the unit is properly clearing exhaust and waste. After, they will prepare your unit for summer, ensuring your cooled air stays indoors.
Stop the Beeping and Replace the Batteries in your Smoke and CO Detectors.
Even when your detectors aren't indicating they are low, we suggest switching the batteries out every year. The batteries in these devices can make a life-or-death difference for your family, so it is absolutely worth the time spent replacing them.
Keep it Healthy, Pure, and Clear by Replacing your Water Filters.
To ensure clean drinking water for your family, we suggest changing your filter every three to six months. If you notice the water flow slowing down or altering to a darker color, consider replacing it early and get your water tested by a certified Dalton technician.
For help with any of your spring tasks, speak to the team at Dalton Plumbing, Heating, Cooling, Electric and Fireplaces! We are standing by to help you prepare for summer and keep your home's systems in tip-top shape. You can reach us at (319) 266-3513.