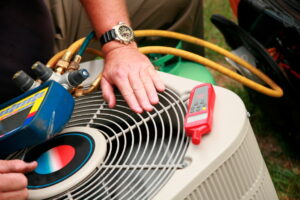 We'd like to start this blog post with a handy PSA: Air conditioning repair should never be done DIY. It's not like other repairs where you can try your hand at a few fixes yourself. An AC is complex and usually covered by a dealer's or manufacturer's warranty that can be immediately voided if you're not careful.
That being said, we'd like to talk about the other main reason why we advise homeowners to steer clear of DIY AC repair in Cedar Rapids, IA. We're talking about mistakes.
It's incredibly easy to mess something up, break something, or even forget something when you try to fix your AC yourself. And since these systems are large, expensive, and extremely complicated, that chance is very likely and can lead to some unintended results.
From broken parts to a completely botched unit, we're going to highlight some of the most common mistakes we see when customers try to fix their AC units themselves.
1. Voiding the Warranty
The first and simplest thing to mess up when you try to do AC repairs on your own, is ruining the warranty. Many air conditioners have warranties on them, whether they come from the manufacturer or the contractor that installed them. You might have even forgotten that your system is covered under a warranty.
But those warranties are instantly voided if someone who is not a licensed technician opens it up and tries to work on it. So before you even have the chance to make a repair, you might be losing out on a ton of savings just by opening the system up to check on the issue.
Before you do this, check with a professional to see if your system is covered under a warranty.
2. Missing a Refrigerant Leak
Refrigerant is a finite resource in your AC. It's not something like oil or gas in a car, where you have to refill it every once in a while, this material belongs in a closed loop. This means that the AC is installed with enough refrigerant to last its entire lifespan.
So, sometimes customers make the mistake of trying to recharge their air conditioner's refrigerant thinking it just needs "a top off." In reality, there's a leak that's gone undetected. This is a serious problem that needs professional attention.
3. Improvising Components
Air conditioners are complex machines that require factory built parts that replace the older, worn down components that might be breaking. Customers might think that it's clever to improvise components because they're similar shapes or sizes, but this rarely ever works the way you want it to.
Get a good part replacement by working with a licensed technician.
4. Getting Injured or Hurt
Don't even get us started on all the ways you can hurt yourself or get injured trying to fix an air conditioner. From breathing in toxic refrigerant, to cutting yourself on sharp metal components, it's just never worth the risk.
5. Breaking or Loosening the Components
Some components are required to be tight, lubricated, or specifically installed in a certain way. Without knowledge of the HVAC industry, it might be hard for you to know which ones this applies to. It's common for DIY folks to break or loosen a component accidentally, leading to a full system breakdown if they're not careful. We don't make those kinds of mistakes.
At Dalton Plumbing, Heating, Cooling, Electric and Fireplaces, Inc., your comfort is our promise! To set up an appointment in the Cedar Rapids area, give us a call at the number above, email customerservice@daltonphc.com or schedule an appointment online.