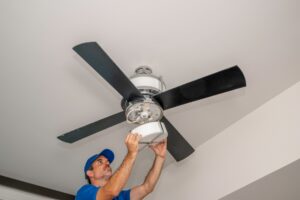 Where would our homes be without lights? Seriously, since the stone age, we've been able to do more every single day thanks to the ability to use light and see during the night when the sun isn't out anymore. Our homes are as cozy and comfortable because we can see them using lighting systems that are affordable, simple, and easy to operate.
Instead of approaching lighting like the miracle that it feels like, let's talk about some of the nitty gritty. After all, some of our customers might have a broken light or some lighting fixtures that need to be upgraded. This can be frustrating, and you could have people telling you to avoid calling a professional for this kind of work.
Today, we'd like to give you some tips on lighting and general electrical repair in Cedar Falls, IA. We'd like to show you why we're the qualified team of experts to call, and how our experience can lead you to having a more comfortable and safe home.
1. LED Bulbs and Efficient Light Fixtures
Let's first start with one of the more complex aspects of lighting. There are new advancements in lighting fixtures and lightbulb technology each and every year. You're probably used to seeing LED light bulbs in the supermarket and hardware store, but these light bulbs need to have the right-sized lighting fixtures for them to fit.
And deciding to forego LED bulbs and better efficiency because of aesthetic reasons can be a decision you make, but it will lead to more frequent light bulb changes and potentially higher energy bills depending on how many lights you have in your home.
Use our team as a resource to uncover the best, most efficient methods for lighting your home.
2. Light in All the Right Places
Lighting isn't just as simple as putting a bulb in the wall. Lighting fixtures need to be placed in strategic locations to make sure that your whole home is lit up.
No, we're not just talking about aesthetic preferences either. Sometimes, either for children or elderly guests, a hallway should be lit around corners and in certain areas for safety reasons to lessen the likelihood of someone getting bumped or falling down.
3. Dimmers, Switches, Plates, and More
Every light needs a method by which it turns on or off. This is where switches and dimmers come in. You can work with our team of professionals to have your lights set up with specific dimmer systems or switches that fit your personal preferences. And, we'll even affix a plate on that switch that matches your home's color and decor.
4. Fixtures That Fit the Room
Whether you're investing in sconces or simple ceiling lights, the look of these lights needs to fit your home's decor. You might not get that with fixtures you pick up at the local big box store.
With us, we have access to tons of different types of light fixtures that can fit your home and lifestyle.
5. Patching Things Up
Lighting work might seem easy, but the patch-up work afterward can be a huge drain if you're doing anything yourself. Our team prides itself on not only being fast but patching things up before we're finished so your home looks better than when we walked in.
At Dalton Plumbing, Heating, Cooling, Electric and Fireplaces, Inc., your comfort is our promise! To set up an appointment in the Cedar Falls area, give us a call at the number above, email customerservice@daltonphc.com or schedule an appointment online.