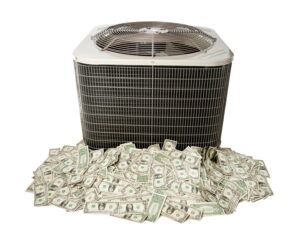 Temperatures are starting to warm, and with that change in the weather, you may be wondering if your air conditioner is ready for another hot season ahead. Of course, if you're making that decision now, it could be tempting to rush into a purchase before summertime hits in earnest. Rushing a decision like this, however, can be a mistake, leaving you with a potentially inefficient air conditioner and/or an improperly installed air conditioner.
We're going to assume that you're not rushing into this purchase, and this is why you've decided to read this blog post. With that, we're happy to share some information that may help you make a careful, educated decision about your next air conditioner purchase. Read on!
Types of AC Units
There are a number of different types of air conditioners on the market, each with its own unique features and benefits, including:
Central Air Conditioners
Central AC systems are still a popular choice and for good reason! There have been a number of advancements made in HVAC technology, which makes these systems far more efficient than those of the past, even in the last decade. Plus, there are options for central air conditioners that bring even more efficiency, like variable speed fans that allow you to use your air conditioner, but not always at full blast.
Heat Pumps
Heat pump systems are very similar to traditional central air conditioners, in the sense that they have a refrigerant process that allows the cooling process to be possible. The difference is that a heat pump can reverse the refrigerant process, making these systems efficient heaters as well as powerful air conditioners.
Geothermal Systems
A geothermal system operates as a heat pump, but instead of drawing in air, it draws in its temperature from the earth. Underground loops are installed feet below the surface of your yard, and this is where the geothermal system absorbs and releases heat, depending on the season.
Ductless Systems
A ductless system is also a heat pump system, except as the name implies, it does not require ductwork. Instead, an outdoor unit is hooked up to at least 4 indoor air handlers, each of which can be controlled independently from each other, for ultimate comfort, convenience, and efficiency.
How Long Does an AC System Last?
The useful service life of a well-maintained air conditioner is about 10-15 years. Maintenance allows our technicians to comprehensively inspect, clean, and adjust the components that need it, and without this service, your system's this useful lifespan could be cut in half.
How Long Does an AC Installation Take?
This depends on a few factors, including what type of air conditioner it is and if installing a new unit also means removing your old system for you. But a general rule of thumb is that a professional AC installation can take a total of 4-8 hours.
At Dalton Plumbing, Heating, Cooling, Electric and Fireplaces, Inc., your comfort is our promise! To set up an appointment for AC installation in Cedar Rapids, IA, give us a call at the number above, email customerservice@daltonphc.com or schedule an appointment online.