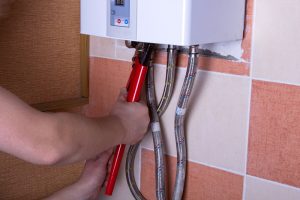 When our customers are looking to have a new water heater installed, we often recommend considering the tankless water heater. There are a number of advantages to using this style of water heater, like lower energy bills, longer equipment life, and an unlimited supply of hot water.
Another benefit of a tankless water heater is that it typically encounters fewer repairs on average that the conventional storage tank water heater. This is because they don't deal with the stress of continual energy usage to keep the water inside the tank heated. It does less work, and therefore a tankless water heater doesn't wear out as quickly.
However, that doesn't mean that they are completely immune to problems. And when a problem does occur, you will want someone who specializes in professional plumbing in Hudson, IA. That's what we're here for! In the meantime, though, ready on to learn more about these systems.