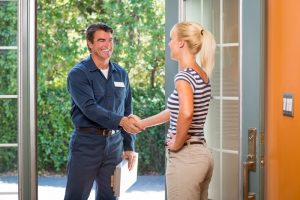 Right now is the best time to arrange for Cedar Falls, IA HVAC maintenance for your heating system if you haven't done so already. Maintenance is the number one way to ensure that your heater will work as efficiently and effectively as you need it to for as long as you need it to. And having your heater tune-up close to when it will need to be used the most is a good strategy.
HVAC maintenance is often part of a larger maintenance plan for a home.  Our maintenance program is just that—a whole-home check that ensures all your systems are clean, and working safely and effectively. We'll get to that below, but in the meantime, read on to discover what's so great about HVAC maintenance!
Your Heater Will Be More Reliable
There are a number of ways that spring and fall maintenance help your HVAC systems. But the one that's most immediately important is that it makes your HVAC systems more reliable over the coming season, and over the years so long as you keep up on maintenance.
The last thing you want is a heater that's at risk of failing during the coldest day of the year. Maintenance sessions allow our technicians to tune up and clean your system, and locate any potential problem areas, so you won't have to worry about making it through the coming weather.
Your Heater Will Last Longer
An HVAC system that fails years before it's supposed to means a premature replacement, and usually a costly one, at that. To get the best return on your HVAC investment, you want it to last as long as possible. Regular tune-ups are key to ensuring this happens!
You'll Save Energy
The wear and tear that your HVAC systems accumulate over the years—both your heater and your air conditioner—adds up to a drop in system efficiency. On average, a home comfort system loses 5% of its energy efficiency for each year it misses maintenance.
Before long, this will reflect on your utility bills, which will be much higher than they should be. Annual maintenance (or biannual, if you have a heat pump), can keep your HVAC systems running at 95% of their initial efficiency throughout their service life, keeping those energy bills down no matter what the season.
You'll Have a Peace of Mind
With our team keeping track of your maintenance schedule, you'll have the peace of mind that if you forget to schedule the appointment, we'll follow up with you. A good membership in a quality maintenance program overcomes any forgetfulness about scheduling this service.
Our Maintenance Program is Different
As we mentioned above, our maintenance program includes more than just your heating and cooling systems. In addition to checking on your HVAC systems, we'll take a close look at your plumbing and electrical systems too, and even your fireplaces! And right now, we have a special deal for all of these services. Visit our site for more information!
At Dalton Plumbing, Heating, Cooling, Electric and Fireplaces, Inc., your comfort is our promise! To set up an appointment, give us a call at the number above, email customerservice@daltonphc.com or