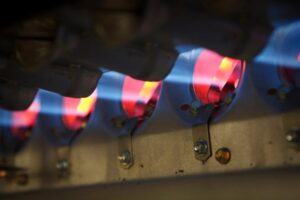 Winter is just around the corner, and when it hits you know just how fast the temperatures can take a turn. As you know, it's already pretty darn chilly around here! So if you haven't done so already, now is the perfect time to schedule heating maintenance, and this is a service you absolutely need to invest in.
Of course, you may be wondering if it's really worth it. We wholeheartedly believe that it is. It's important for your comfort, first off, as well as your home energy efficiency and utility bills, and even your safety. That's not to say your heater is inherently dangerous, but not properly caring for a heater–especially a gas-powered system–could potentially lead to a dangerous scenario.
Choosing Maintenance Rather than Waiting for Repair Needs
We understand–the idea of scheduling service for your heating system that you don't need right this moment can seem like a hassle–something you don't want to take time out of your busy schedule for. But needing frequent repairs for a system at the last minute is going to bother you too!
Additionally, by the time you wait for the signs of a repair need to show up, the damage has already been done and the repair could be even more expensive than it would have been if it were caught during maintenance. It's simpler, and most cost-effective, to have preventive maintenance scheduled once a year (twice a year if you have a heat pump system!)
4 Reasons You Want Routine Preventive Heating Maintenance
Reduce Repair Needs: Maintenance can help you avoid up to 85% of the repairs your heater may ever need in its lifetime! It does this by allowing our technicians to find and alert you to small wear and tear needs before they have the opportunity to grow into emergency repairs.
Keep Your Home Warm and Safe: One of the components we inspect is your gas line in a gas-furnace, plus the electrical wires. Looking for signs of wear like fraying or cracking can help prevent a huge hazard.
Improve Energy Efficiency: When your heater is adjusted and cleaned during maintenance, it helps your system work more efficiently overall. Each year you skip maintenance, your furnace can lose about 5% of its original efficiency rating, but matinenance helps retain 95% of its original efficiency rating.
Keep Energy Bills Low: When a heater works more efficiently, it drains less power, which means lower utility bills!
Ask About Our Maintenance Program!
Dalton provides a number of benefits to members of our maintenance program. When you join our membership club you'll get the above-mentioned advantages, plus:
24-Hour Emergency Service
100% Comfort Guarantee
20% Loyalty Discount on Parts & Repairs
Longer Equipment Lifespan
Lifetime Warranty on Parts & Labor with Parts Installed by Dalton Technicians
And Much More!
At Dalton Plumbing, Heating, Cooling, Electric and Fireplaces, Inc., your comfort is our promise! To set up an appointment in the Cedar Rapids area, give us a call at the number above, email customerservice@daltonphc.com or schedule an appointment online to schedule your next heating tune-up!