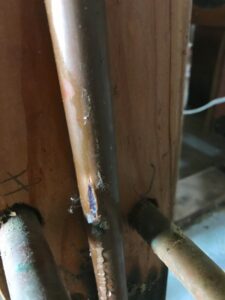 Temperatures are already getting quite chilly, and that means it's time to winterize your home! You may have already taken some steps towards this, like ensuring that your heater is maintained and ready for the season. But what about your pipes? After all, temperatures can and will drop below 30°F this winter.
This means that the unthinkable could very well happen. That's right, you can find yourself dealing with frozen pipes. While we have the resources you need to find a professional we're happy to help you by sharing some tips on how to defend against frozen pipes before they even occur.
First, Empty Your Plumbing System
The pipes that are at the highest risk of freezing are those that do not have the right insulation. We're talking about external pipes and pipes in areas such as the basement. If you are not planning on using a particular pipe or set of pipes during the winter—particularly if it's located in a drafty area—then you should cut off the flow of water to that pipe and open the faucet.
Drain out the water left in the pipe. There will be some water left over, but not enough to freeze to the point that it will stop the flow of water or cause any breakage to the pipes.
Then, Insulate Any Necessary Pipes
There are some pipes within your home that are prone to freezing. For instance, the pipes under your sink are still going to be used throughout the winter. Obviously, you're unable to just shut off the water to pipes like these, so you'll need to consider other options.
One option is to insulate these pipes using individual insulation sleeves. These can be found pretty easily. However, if you don't have access to these or need a "quick fix," you could wrap towels around the pipes to protect them from cold temperatures. Every little bit helps when it comes to protecting your pipes from freezing temperatures.
And if you do suffer from frozen pipes, or burst pipes due to freezing, simply call our team for repairs as soon as you can. The quicker we're able to look at the problem, the better off your plumbing system will be.
"How Do I Know If My Pipes Are Frozen?"
One sign that your water pipes might be frozen is a reduced water flow from your shower or sinks. This could also be the sign of a leak too, so don't chalk it up to the former problem. If you do have water flow, you can try slowly running lukewarm water to resolve the issue, but you will still need insulation and may need plumbing services to prevent the pipes from further freezing.
If you discover that you have frozen pipes, do not try to thaw them on your own, as this can cause more damage (and actually cause them to burst, since this phenomenon happens during the thawing process and not actually the freezing process). The best thing you can do is give our staff a call!
Contact Dalton Plumbing, Heating, Cooling, Electric and Fireplaces, Inc. today to service or prevent your frozen pipes in Cedar Rapids, IA.