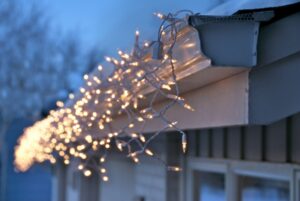 Tis' the season for festive holiday decorations! Perhaps you've already noticed that some homes in your area have adorned their houses with a few strings of lights, or maybe even really complex, professional holiday light displays aimed to win home decorating contests.
Putting up holiday lights outside your home is a really fun way to make your household and even your street look super festive. Colorful and playful lighting is also fun to see on snowy evenings. But, it's important that you keep in mind, no matter how many or how few holiday lights you plan to put up around your home to brighten the season, you want to take proper safety precautions to prevent issues like shorting out your electrical system, accidentally triggering an electrical fire, or perhaps even causing a tripping hazard with loose wires around.
Read on for some tips on holiday light safety, and why you shouldn't overload your electrical system with these lights.
The Danger of Overloading Your Electrical System
You know those scenes in movies where a homeowner goes to plug in their holiday lights, only to knock the power out to their home–maybe even the entire street?
While this is usually pretty exaggerated for the purpose of entertainment value, it is possible to overload the electrical system, and thus do damage to it. Overloading your electrical system with holiday lights is really something you want to avoid.
If you're unsure of how much voltage and amperage your electrical system can manage, it's a good idea to contact our team so we can do an electrical inspection for you. Today's homes have increasing electrical demands, so it's a good idea to have routine annual electrical inspections done anyway.
There's a good chance, at least if you haven't had your electrical system or electrical panel inspected or upgraded in the last couple of decades, you're probably in need of an upgrade.
Don't Use Damaged Light Strings
Another thing to keep in mind with your holiday decorating is to not use damaged light strings. If you notice places where insulation has worn off the wiring or you have any broken sockets, it's a bad idea to use that string of lights. It's a fire hazard, and that string should be thrown away. In general, the same light string should not be used for more than 5 years.
Use UL-Approved Hangers to Attach Your Outside LIghting
One of the most popular methods to change up outdoor lights is to use nails or a power stapler. This isn't the best idea though, since you run the risk of damaging the cord and potentially creating a fire hazard.
Rather than doing this, consider using special hangers for the lights, that are UL approved. UL stands for Underwriter Laboratories and is a leader in product safety testing and certification.
At Dalton Plumbing, Heating, Cooling, Electric and Fireplaces, Inc., your comfort is our promise! To set up an appointment for electrical services in Cedar Rapids, give us a call at the number above, email customerservice@daltonphc.com or schedule an appointment online.