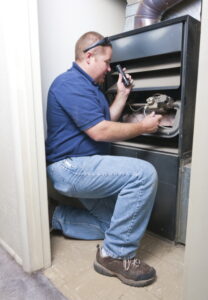 Everybody knows that it gets considerably colder in most of Iowa during the winter than it does in other parts of the country. Take Southern California, for instance, or central Arizona. They truly have no concept of what "cold" really is.
Therefore, furnaces must last a lot longer there, right? You probably have to replace yours a lot sooner than your Aunt in Phoenix has to upgrade hers. Well, it might please you to know, that this isn't necessarily true.
When we talk about "how long a furnace lasts," we are referring to its useful service life. A furnace might operate for decades, but whether it actually keeps you as warm as you expect, as affordably as you'd expect, is a whole different story. No matter where you live, routine professional maintenance will give a furnace about 10-15 years of useful service life.
Read on as we tell you more about furnaces, and when you're ready for your next heating installation, please don't hesitate to give our team a call!
Signs You Need a New Furnace
So maybe you're wondering if it's time to go ahead and upgrade your furnace. Whether you have an electric or a gas furnace, there are some tell-tale signs to watch out for. The first is age. If your furnace is approaching 15 years old or older, then it's probably time to give us a call and start exploring your furnace options. Here are some other signs:
Frequent Repair Needs: How often are you calling professionals for furnace repairs? Calling once every couple of years is normal, due to natural wear and tear. If, however, you find yourself calling for furnace repairs a few times a year, then it's probably going to make more financial sense to replace your system. This is especially true if your next repair is going to cost half of what your furnace is actually worth.
Higher-Than-Average Utility Bills: Take a look at your monthly energy bills. Are they a lot higher than they were this same time last year? If so, this is a sign that something in your home is working inefficiently. Your furnace may very well be to blame! After all, your HVAC systems account for about half of all your energy consumption.
Strange Noises: Now, sometimes strange noises just indicate something that needs a quick repair. If you hear a screeching sound, for example, then it may be nothing more than motor bearings needing lubrication. If, however, strange noises accompany the above-mentioned signs (especially the age) then it's probably time to go ahead and consider a replacement.
What Types of Furnaces Are Out There?
Not all furnaces are created equal! First off, there are high-efficiency furnaces on the market. They are typically a bit more expensive upfront, but they consume less energy over time, lowering your monthly energy bills. The two main categories of furnaces, however, are electric or gas.
Electric Furnaces: These systems are a great option for homeowners who either don't have access to a municipal gas line, or want to go all electric for safety reasons. Gas-powered appliances are not inherently dangerous, especially when they're well maintained. But it's still something to consider!
Gas Furnaces: This tends to be the most common type of furnaces found it homes, due to their efficiency and therefore their affordability!
Curious about what type of furnace replacement is best for your home? Please ask our team? We're happy to go over all of your options.
Can I Finance a Furnace?
Absolutely! At Dalton PHC, we understand that your HVAC systems are one of the biggest investments you can make for your home. And so, we provide flexible financing. You can either apply online or give us a call at 319.237.3770 to learn more!
At Dalton Plumbing, Heating, Cooling, Electric and Fireplaces, Inc., your comfort is our promise! To set up an appointment for furnace service in Cedar Rapids, IA, give us a call at the number above, email customerservice@daltonphc.com or schedule an appointment online.