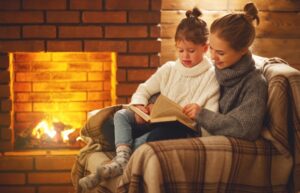 Now is the time of year that homeowners all throughout Cedar Falls and beyond are starting to use their fireplaces on a more regular basis. This means that you want to make sure yours is in good shape! And while there might be a little rustic charm to an older fireplace, if your fireplace is literally falling apart due to old age combined with wear and tear, then something needs to be done about it.
Fortunately, to resolve this you don't need to do much more than contact our team for quality and reliable fireplace repair! But, how do you know this service is even necessary? Read on to find out!
Common Signs You Need Fireplace Repair
It can seem like fireplaces will just last forever. Unfortunately, this just isn't the case. In order to remain as effective as possible, and more importantly safe as possible, you will need repairs at some point. Here are just a few signs to watch out for that this time has come for your fireplace.
There Are Cracks in the Bricks
If your fireplace has brickwork or masonry, you may discover cracks that show up over the years. It's part of natural wear and tear, but that doesn't mean it isn't something that should be checked on every once in a while. And it definitely doesn't mean you should patch up these cracks on your own!
The masonry and bricks of your fireplace are designed with specific materials to prevent heat transfer. Using the wrong material can cause more harm than good, and leave you with an unsafe fireplace system. If the cracks in your fireplace seem to be growing, please give our team a call.
There Is Visible Rust
Your fireplace has a number of metallic parts, like the fireplace damper. Over the years, humidity in your home and moisture from the outside getting in can create rust on these essential components.
If you want to keep corrosion and rust at pay, you'll want to invest in routine fireplace maintenance–and eventually you may need fireplace repair as well to replace components that have rusted to the point of no return.
Your Home Gets Smoky
Does there seem to be smoke inside your home when you're operating your fireplace? First, you will of course want to make sure that the damper is all the way open. If you've checked this and the smoke is still an issue, then what might be happening is that cracks in the flue or masonry are creating to backdrafts that push smoke into the home, rather than pulling it out.
This can be a very dangerous problem to have, and therefore you should call for fireplace repairs ASAP. It effects your air quality and can have a negative impact on your health, too.
At Dalton Plumbing, Heating, Cooling, Electric and Fireplaces, Inc., your comfort is our promise! To set up an appointment in the Cedar Falls area, give us a call at the number above, email customerservice@daltonphc.com or schedule an appointment online for expert fireplace repair in Cedar Falls, IA and beyond