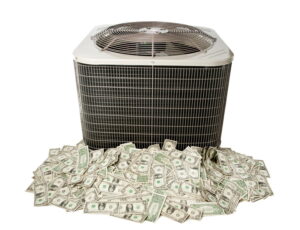 "Inflation" is a word we've all become far too familiar with this past year. You probably know what it means–higher prices on things like gas, groceries, utilities, etc. Did you know, however, that it can also impact the cost of your HVAC equipment if you're having a system installed or replaced soon?
When high inflation occurs, you might be wondering if you should hold off on replacing an older air conditioner, or if you should rush out and get one now. With no guarantee of when this inflation period will end, our advice is to consider an upgrade now–but don't rush into it.
Rushing into a purchase of this scope can leave you with a system that is inefficient, ineffective, and/or just not properly matched for your home's specific comfort needs. You should work with a qualified professional such as the folks on our team when you're considering an upgrade.
And inflation or not, it's good to know the signs that it is, in fact, time for an upgrade. This includes:
Your Air Conditioner Is Old
The useful service life of a well-maintained air conditioner or heating system is about 10-15 years. If yours has reached the decade mark, it's a good idea to consider an upgrade. As we alluded to above, inflation can cause prices to go even higher. It's better to upgrade your system sooner rather than later so that you can take your time to shop for the perfect system and not be scrambling a couple of years from now to find an affordable option when your system breaks down entirely.
We do also want to address the "well-maintained" part of this. When you have your air conditioner professionally maintained once a year, it extends the lifespan of the system, reduces repair needs by as much as 85%, and helps your system retain about 95% of its original efficiency rating. All of this means it's a lot more likely to actually last 10 years or more. If you have a 7-year-old system and it's never been maintained and/or you have to call for repairs pretty often, you still might want to consider an upgrade (and consider signing up for our membership plan).
Your System Needs Frequent Repairs
It's pretty normal to need repairs once every couple of years or so. After all, it's a complex piece of machinery that suffers from natural wear and tear. What's not normal, however, is needing 2-3 repairs each year. This means your air conditioner has reached a point where it just can't keep up with your usage anymore.
A good rule of thumb to go by here is that if your next repair or set of AC repairs is going to cost you half of what the system is worth, it probably makes the most financial sense to go ahead and make an upgrade now.
Fortunately, you've come to the right place! Our technicians can help you go over your options and make the best choice for your family's comfort.
At Dalton Plumbing, Heating, Cooling, Electric and Fireplaces, Inc., your comfort is our promise! To set up an appointment in the Cedar Rapids area, give us a call at the number above, email customerservice@daltonphc.com or schedule an appointment online for HVAC service in Cedar Rapids, IA.