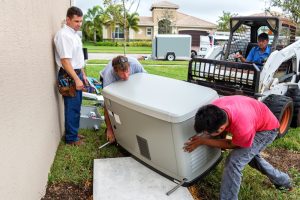 When a storm rolls through town or high winds take out a power line, it can be a stressful situation. After all, you don't want to be without power for an extended period of time. However, if you are the proud owner of a whole-home generator though you won't have to worry about being without power anytime soon.
These systems are able to provide several hours and even days-worth of power for your home should something cut off the energy provided by the city.
With all that said, a generator in need of repairs won't be able to provide the quality of service that you'd usually expect. It is vital to get generator repair in Cedar Rapids as soon as you notice a problem. The team at Dalton Plumbing, Heating, Cooling, Electric and Fireplaces, Inc. is here to help ensure your generator is as reliable as it is meant to be. We can start by letting you know what the warning signs are of a problem with your generator.
5 Indicators That Your Generator Needs Professional Service
Watch out for these warning signs to figure out when it is time to make a call to our team for a whole-house generator repair service:
Your generator is leaking: Generators use gas to create power. They also have coolant and oil within them that allows them to operate properly. If you notice a leak coming from your generator it may be one of these fluids. Ultimately, any sign of a leak should prompt a call to a technician for repairs.
There is rust on your generator: The generator sits outside all year long and it can fall victim to the elements over time. Signs of rust or corrosion on your generator, or broken connections, are all things that justify the need for professional repairs
The generator doesn't stay on during a test: The next time you have a chance, give your generator a test run to see how it is operating. If you notice that the generator does not respond when you do this or has trouble staying on the way that it is meant to, it means you need to schedule repairs.
There are delays in the start-up: Maybe the issue you noticed during the test run was that your generator seemed not to want to turn on at all. Delayed start-up or start-up that just does not happen are indicators of a generator in trouble.
Your generator smells or sounds off: Last but not least make sure to look for those relatively basic warning signs of trouble with your system such as odd sounds during operation or bad smells. You know what your home systems are supposed to sound like so if you notice something different don't just brush it off reach out for professional service instead.
At Dalton Plumbing, Heating, Cooling, Electric and Fireplaces, Inc., your comfort is our promise! To set up an appointment in Cedar Rapids, give us a call at the number above, email customerservice@daltonphc.com or schedule an appointment online. Get your generator up and running again today.