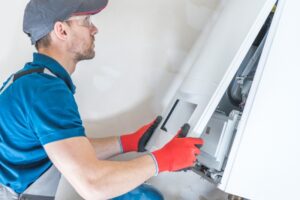 While temperatures have been on the warmer side lately, there's no denying that the official end of summer is right around the corner. And in our part of the country, fall and winter mean cooler temperatures! You're probably looking forward to it after the summer we had–but you won't be singing praises that long if you have a broken down heating system.
That's why it's important to schedule heating maintenance for your system as early as possible. Actually, the timing of your heating maintenance doesn't matter as much as frequency–you should have this service professionally done once a year–but having maintenance done before you need your heating system the most is the best way to set it up for success and have a peace of mind that you can stay comfortable throughout the rest of the year and into 2022. Read on to learn about the great benefits of routine, professional heating maintenance.
Improve System Safety
Gas-powered appliances are not inherently dangerous. But let's face it–there will always be a little bit of risk involved when it comes to having gas lines in your home. So if you're using a furnace or boiler system, you're right to be a little concerned–at least enough to take proper care of that system.
What can happen if you skip heating maintenance is that parts will begin to break down or corrode without you knowing about it. This could very well include the heat exchanger of your heating system, which can lead to carbon monoxide leakage, which is a pretty dangerous problem to have.
Fortunately, if you're having your heater professionally tuned up on an annual basis, you don't need to worry about this!
Give Yourself a Peace of Mind
When it gets chilly outside, and you're sitting inside all snug and warm while your heating system is blasting away, the last thing you want to concern yourself with is whether that heating system will fail and leave you trapped in a chilly home.
Without routine, professional maintenance, your heater will have a higher chance of suffering from a breakdown. With maintenance, you'll have the peace of mind that your household will stay warm all fall and winter long.
Save Money!
When your heating system misses its routine maintenance for the year, it can start to decline due to natural wear and tear as well as dirt buildup. This means the heater will drain more power than it should have to, raising your utility bills.
As soon as you have your professional heating tune-up done, you'll be protected from paying too much to use your heating system.
Maintenance also helps your heater last longer. It can prevent up to 85% of the repair needs the system may have, cutting down on wear and tear. A well-maintained heater can last about 10-15 years, while an ill-maintained one will last maybe half of that.
At Dalton Plumbing, Heating, Cooling, Electric and Fireplaces, Inc., your comfort is our promise! To set up an appointment, give us a call at the number above, email customerservice@daltonphc.com or schedule an appointment online for heater maintenance and more!