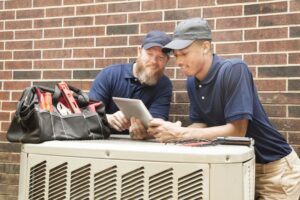 The official end of summer is upon us, and very soon it will be time to start thinking about your heating system–in fact, it's not too early to schedule heating maintenance if you haven't done so already!
But you're probably still using your air conditioner pretty consistently in the meantime, and the last thing you need right now is a huge repair need or a sudden breakdown!
We have good news! Most AC repair needs show symptoms or signs well before the system breaks down. So, if you do notice any of the signs we're about to share, it'd be wise to give us a call ASAP. This way you can rely on your system not only for the rest of whatever hot weather comes our way, but also when temperatures warm up again next spring.
Remember, it's important that you not try to diagnose, and especially not try to do your own repairs on, an air conditioner problem. However, you can definitely pay attention to see if you notice any of the following symptoms or anything that we didn't mention below but seems out of character for your AC system, such as strange noises.
Weak Airflow
So let's say that you've noticed that the chilly air you're used to isn't moving through the vents and into your home with the power or speed you're used to. This is clearly a problem, but what does it mean? It usually means that this air is escaping somewhere else, or even trapped within your system, leading to more problems.
It could mean that you have damaged air ducts and your conditioned air is leaking into unoccupied areas. Weak airflow isn't just a sign of a problem, but it can be a problem on its own since it can't effectively and efficiently keep you comfortable.
Low Cooling
Perhaps the airflow coming through your vents is just fine, but the air itself seems lukewarm? There are a few different potential problems here. You might have a refrigerant leak, for instance. Refrigerant is the chemical substance in your air conditioner that makes the whole cooling process possible!
Alternatively, it could be that you have a component overheating due to unaddressed adjustments or repair needs. Lastly, it may be that you have damaged ducts, and what you're feeling isn't a lack of cold air but weak airflow, like we mentioned above.
Regardless of the cause, if your air conditioner isn't keeping you as comfortable as it once did or as comfortable as you think it should be able to, it's time to give us a call.
Short-Cycling
When an air conditioner system turns on and off rapidly without ever running for very long–essentially without actually completing a full cooling cycle–this is called short cycling. Your air conditioner uses the most energy cycling on, so if it's short-cycling this means it's expending much more energy than it should have to in order to provide your household with cooling.
Short-cycling is considered an electrical problem, and as such it's important that only a professional deal with the repairs needed to remedy this.
At Dalton Plumbing, Heating, Cooling, Electric and Fireplaces, Inc., your comfort is our promise! To set up an appointment for professional AC repair and more, give us a call at the number above, email customerservice@daltonphc.com or schedule an appointment online.