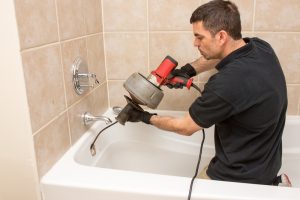 Most homeowners are likely used to dealing with minor household problems and tasks on their own, and that can easily extend to certain plumbing issues. We've all at one time or another had to unclog a toilet with a little "elbow grease" and a plunger, or had to fish a clog or two out of a sink. This can lead many homeowners, especially those on a budget, to attempt bigger plumbing repairs.
However, in most cases, this can be a big mistake. Formal plumbing problems require proper licensing and training, like our professional Waterloo, IA plumbers receive, in order to perform plumbing repairs and services the right way. Even seemingly simple problems like a stubborn clog can benefit from the attention of a professional. In fact, your efforts to save a little money could actually end up costing you more, or at least can become a pretty big headache. Here's why:
Professionals Have the Right Equipment On Hand
Sure, store-bought plumbing solutions are cheap. Take chemical drain cleaners, for instance. The kind you can buy at the store will typically provide use two times or more on the same drain, and a bottle of it will typically cost you less than $20. But with low cost comes low reliability.
Chemical drain cleaners not only provide a temporary solution, not getting to the root cause of the clog in your drain, but they also are caustic—this means that they can begin to corrode the inside of your pipes.
Professional plumbers use specialized equipment that can deal with whatever specific plumbing problem you may have, whether it's a drain snake for a persistent clog, or video pipe inspection to figure out where a hidden leak is coming from.
Professionals Are Properly Trained
A general handyman, or an enthusiastic "do-it-yourselfer," lacks the formal training that professional plumbers must go through in order to get the proper licensing. Most homeowners also lack experience with any given plumbing problem, which means you may struggle to correct whatever the problem may be, and you probably won't be able to correctly identify the source of the problem.
If you have a professional on your side, however, with the proper licensing and training, then this ensures that they know how to properly diagnose and repair a wide variety of problems. This extensive training and experience mean that you can count on an effective and accurate plumbing repair.
Professionals Are Insured
If your end goal is to save money—or at least, prevent monetary loss—then you want a plumber with the right type of insurance to work on your plumbing problems. An insured plumber means that if property damage occurs, or an injury, or a problem related to fixing the first issue, you will not be held financially liable. Instead, the plumbing contractor will. Hiring a professional covers yourself and your property!
At Dalton Plumbing, Heating, Cooling, Electric and Fireplaces, Inc., your comfort is our promise!
To set up an appointment in the Cedar Falls area, give us a call at the number above for plumbing service in Waverly, IA, email customerservice@daltonphc.com or schedule an appointment online.