Have you been gearing up to have a summer BBQ, only to realize your A/C was out and your guests were left sweltering on your lawn? Or, have you been dealing with various plumbing issues because your home has been using so much more water during the summer months? You're not alone!
There are common plumbing, heating and cooling, and electrical issues that come up during summer that will catch you in the most inconvenient time. Luckily, the team at Dalton has the list of common concerns to watch out for, and how to prevent them from happening in your home.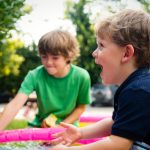 Plumbing Pains
Dalton Complete Home Comfort Memberships provide maintenance for your plumbing. They will help you identify small issues before they become massive problems. Use your membership to avoid the common, summer plumbing issues below.
Backed up sewer line
During summer rain and thunderstorms, your sewer can easily back up from the excess water. If your home is susceptible to rising water, consider installing a drain plug in each drain to prevent backed up water from rising during the storms.
Broken Sprinklers
When your sprinkler heads break, your water bill can drastically spike. Make sure to keep the heads clear of debris, watch out for them when you mow the lawn and provide regular maintenance, so you don't have to deal with an unwanted pond in your backyard.
Clogged Toilet
With the kids home from school, more people are using the commode more frequently, meaning they are more prone to getting clogged. You can prevent clogs by reminding your children of the correct amount of toilet paper to use each flush. If you are still experiencing frequent clogs, call the team at Dalton.
Cooling Calamities
One of the multiple areas covered by your Complete Home Comfort Membership is your air conditioning. We perform an in-depth tune-up once a year to make sure your unit is ready for the heat of summer. Without a proper tune-up, you may be facing one of these common, air conditioning issues.
A/C Not Running
If your air conditioner isn't running at all, we suggest first looking at your thermostat settings. If all checks out, call Dalton for a tune-up. Chances are the unit needs to be tightened up and cleaned to continue cooling your home.
Leaking Water in Your Home
Air conditioners don't just cool your home; they dehumidify it. If your unit is leaking water, there is likely an issue with a clogged condensation drain. Have a Dalton technician inspect the line to make sure the water can empty out.
A/C Short Cycles
If your A/C is turning off and on in unusually fast cycles, the common culprit is an improperly sized cooling system. Another cause could be iced-over evaporator coils. Whichever is plaguing your system, have a technician from Dalton fix the issue.
Electrical Exasperation
During your electrical inspection with your Complete Home Comfort Membership, you can rest easy that your electrical system is safe and efficient. Our master electrician will inspect your circuit breakers, smoke/CO detectors, and other electrical components in your home to make sure it is up to code and safe for your family. Without annual inspections of your electrical components, you might have one of these common electrical problems.
Flickering Lights
If your lights are flickering each time your cooling system turns on, it's a common sign that your system isn't running properly. Be sure to have your Dalton technician inspect your air conditioner and cooling system each season to ensure its efficient and not overusing power.
Tripped Breakers
We use more electricity during summer. That's no surprise. But, if your breakers are frequently tripped, you may have an electrical issue that needs to be addressed. Our master electrician can inspect your wiring to ensure it's up to code. Additionally, you may need more circuits to keep up with your modern lifestyle. This is something you can go over with your Dalton electrician to make sure your electrical system is meeting the needs of your family.
Overusing Extension Cords
Summer means more fans and the use of electrical devices in your backyard being plugged into an extension cord. While it may be tempting to use one cord for all your needs, they can overheat and cause electrical fires when they are overloaded. If your cord feels warm to the touch, unplug it, and never plug an extension cord into other extension cords.
For help with these common issues and more, call Dalton. We can set you up with a Complete Home Comfort Membership, so you don't have to worry about maintaining your home. Let us take care of that.