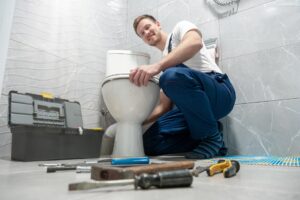 It's time to start living in the 21st century! Seriously, you'd be surprised at some of the amazing plumbing upgrades that people have access to nowadays.
Some of them, like water filtration systems in Cedar Falls, IA, are going to be easily installed and set up by a professional. Others, like a bidet or a high-efficiency toilet, are going to save you money but also change the way you live your life.
In truth, a plumbing upgrade can be for more than just convenience. It can help shift your lifestyle to one that's more sustainable, enjoyable, and efficient.
Today, let's look at three great plumbing upgrades for your home and we'll examine how they work. For each and every one of these, it can be helpful to have a plumbing professional on hand for any repairs, installations, or even the regular maintenance of these systems. Our team is always here to help you when you need it!
Upgrade Your Toilet to a High-Efficiency System
What if we told you that you could have a toilet installed that used less water every single time you flushed it, with little to no difference in the functionality? Does that sound too good to be true? Well, it's not!
High-efficiency toilets do an exceptional job of using gravity and the flow of the toilet to remove waste without using nearly as much water. And, since water costs money to use, that would save you money every time you flushed the toilet by default. Last time we checked, everyone still had to use the toilet on a daily basis, so you'd be saving a whole heck of a lot of money!
Our team can help you set up a toilet that fits just right, and one that runs more efficiently than the older models.
Install a Bidet
Have you ever gotten tired with the sheer amount of bathroom paper you use? Toilet paper is one of those things that Americans buy, in bulk, every few weeks and it still feels like we never have enough. But it turns out that there are other solutions, some of them are even environmentally friendly ones that can really improve your lifestyle.
A bidet is a great installation for people who want to reduce their toilet paper usage while staying clean and sanitary. These systems are popular in Europe, and ever since some recent toilet paper shortages, they've become more popular in America. Some systems can be hooked up directly onto your toilet!
Just remember to have a plumber help you with any potential installation tasks you might have, since every toilet and bathroom will be different.
Get a Water Filter Installed
Here's a simple upgrade–why not invest in a water filter? These systems are powerful enough to weed out even some of the smallest particles that exist in your water line. They're efficient, effective, and can quickly be installed by a professional who knows what they're doing. Keep your water clean, safe, and tasting great with a whole-home water filtration unit.
At Dalton Plumbing, Heating, Cooling, Electric and Fireplaces, Inc., your comfort is our promise! To set up an appointment in the Cedar Falls area, give us a call at the number above, email customerservice@daltonphc.com or schedule an appointment online.