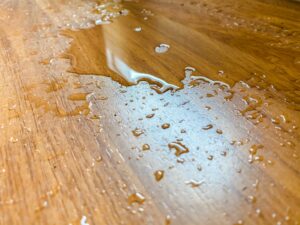 If you've been frantically searching online for what to do in this nightmare situation, then the first thing we want to say is congratulations! You've come to the right place. Take a deep breath, maybe grab a glass of water, and think about how far you've come.
Leaks can be all shapes and sizes, but they're never good and almost always frustrating. If you have a leak dripping from your ceiling, a pipe in your basement, or even coming up from the floor, then you're likely scared about the negative effects of it. The good news is that if you act fast and get the right professional on the job, you can mitigate most of the negative effects and get back to your normal life.
So, put those gloves on, grab your phone, and let's get to work! This is going to be your handy checklist for dealing with a leak and getting great plumbing service in Waverly, IA.
The Two Most Important Steps
When you're encountering a leak, it can feel like you need to do 50 things at once. Perhaps you want to mop up the excess water, turn your water off, check other appliances, and call for a plumber all at once. But you can't do that. You're just one person with two hands, how can you possibly deal with all of these issues at the same time?
It's important to take things step by step, and the two most important steps always go first!
The first step is to call a plumber. Logistically, it's going to take some time for them to get to your home, so the earlier you call them, the less time this will likely take. Emergency plumbers still need to drive the speed limit and depending on how far away you are, it might take an hour for anyone to show up! Get this done early so you're not waiting on a plumber later on.
Then, shut your water off. This can be done by accessing the main water shut-off valve in your basement or crawlspace, usually at the connection to the main water line. The longer your home stays connected to the water source, the more water will leak out. So, by cutting off access to water, you mitigate most of the worst problems that can occur.
And congratulations! You've avoided the worst-case scenario. Let's move on.
Clean Up, Inspect, and Protect
Your main job until a plumber gets to your home is to clean up, inspect the damage, and protect your home.
Clean up by using towels and cleaning supplies to remove any water that might have pooled up in an area of your home. This will also make it easier for a plumber to access the leak right away.
Inspect your basement. Are there multiple leaks? Is the leak coming from a particular set of pipes? This can be valuable information to catch your plumber up to speed.
Protect the rest of your valuables and your home by containing the damage. Use buckets for any spillage or leaking water so that it doesn't end up ruining a nice carpet, family heirlooms, or more.
Well, what are you waiting for? Let's get started!
At Dalton Plumbing, Heating, Cooling, Electric and Fireplaces, Inc., your comfort is our promise! To set up an appointment in the Cedar Falls area, give us a call at the number above, email customerservice@daltonphc.com or schedule an appointment online.