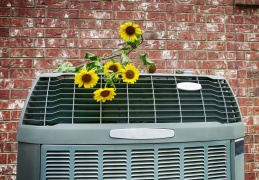 This is one of the most common questions we receive as HVAC professionals–when is it time to replace your AC unit? You may think that as long as it's running and blowing out some cold air then it's still good for a while. Maybe you'll wait until it simply can't function anymore.
But, this is not a great plan. The thing is, an AC system that is nearing the end of its life won't work efficiently, and may not even be operating as safely as it could be. Read on to learn more!
How Long Does an AC Unit Last?
When professionally maintained, the average air conditioner can last about 10-15 years. That is, it will have 10-15 years of useful service life before it starts working inefficiently and needs increased repair needs. In addition to professional maintenance, it's important that you care for it between tune-ups too, by changing the air filter every 1-3 months and clearing away debris like twigs, branches, leaves, etc. from the outside unit, where the debris can obstruct airflow.
Benefits of Routine Maintenance
Improves System Efficiency: During your air conditioning maintenance session, our professionals thoroughly clean, adjust, and inspect each and every component. A cleaner HVAC system has less airflow resistance and therefore has an easier time reaching the desired temperature setting on your thermostat. A system that is regularly maintained can retain up to 95% of its original efficiency rating (SEER).
Reduces AC Repair Needs: You may be surprised to learn that an air conditioner that is professionally maintained on a regular basis can avoid up to 85% of the repair needs it may need in its lifespan! This is because when we inspect it, we're able to find small wear-and-tear issues before they even have the chance to grow into large problems.
Helps Your Air Conditioner Last Longer: As we said above, a well-maintained air conditioner has a useful service life of 10-15 years. If you skip maintenance, you can expect that lifespan to be cut in half.
Tips for Increasing Your AC's Lifespan
Stay on Top of Maintenance: Frequency matters here more than timing. We do recommend that you have AC maintenance done in the spring, before you need the system the most. But what matters more is that you have it done once a year in order to get the most benefit.
Get Repairs Done ASAP: The longer you let repair needs go unaddressed, the higher chance they have of turning into a complete system breakdown.
Start off the Right Way with a Professional Installation! Only a trained and experienced HVAC technician, like our professionals, know how to properly size and match the right air conditioner to your specific home, and this will reduce wear and tear that could otherwise lead to your air conditioner's early demise.
At Dalton Plumbing, Heating, Cooling, Electric and Fireplaces, Inc., your comfort is our promise! To set up an appointment, give us a call at the number above, email customerservice@daltonphc.com or schedule an appointment online for reliable AC repair in Cedar Rapids, IA.