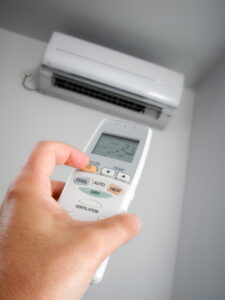 With temperatures dipping back down after seemingly warming up, it can seem a little early to talk about air conditioning installation. But if you're in need of a new cooling system, there's no denying that springtime is here, and soon enough those warmer temps will be here to stay until next fall.
Plus, the great thing about a ductless air conditioning system is that it functions as both an air conditioner and a heater, which we'll get into more below. Ductless systems are great for climates that have winters that are relatively "mild" and summers that are hot. This makes them a great option for many homeowners in our service areas. Read on to learn more!
How Does a Ductless System Work?
Ductless systems operate on a heat pump technology.
Heat pumps work much as central air conditioners do. They use refrigerant to pull heat out of your home or property, cooling it down and returning the chilled air into your home while expelling the hot air outside. The difference between a heat pump system and a central air conditioner is that a heat pump's process can be flipped using a component called a reversing valve. This means that not only can it be used for cooling, but it can be used for heating your living space, too.
A traditional heat pump has one outdoor and one indoor unit, like a central air conditioner. A ductless system, however, can have up to 4 indoor air handlers hooked up to a single outdoor unit. Each air handler can be independently controlled from one another, so that you don't have to have a uniform temperature throughout the home. More on this below!
Benefits of a Ductless Systems
Ductless systems are beneficial because they operate on heat pump technology, and because they have individual air handlers–but what makes this so special?
Ductless Systems are Highly Efficient: Ductless systems are more efficient when operating as a heater than a traditional furnace would be. Instead of generating heat, they transfer heat. They're also more efficient than a central air conditioner or heater because of their individual air handlers–when you don't have to cool or heat the home all at one temperature, you drain less power, and therefore use less energy.
Ductless Systems Save Space: First off, by eliminating ductwork you can save space that you could otherwise use for storage or other purposes, like your attic. In addition, you don' t need to make room for a large, singular air handler inside the home. Ductless air handlers can be wall-mounted, high up and out of the way of any furniture or anything else in your home.
Ductless System Installation Process
Ductless systems are set up differently than traditional air conditioners (or heaters). The air handlers are each connected to the outdoor unit via a conduit that contains a power line, refrigerant line, and condensate line. These conduits are routed through a small hole that we drill into your drywall. To learn more about the process, please don't hesitate to reach out to our team.
At Dalton Plumbing, Heating, Cooling, Electric and Fireplaces, Inc., your comfort is our promise! To set up an appointment in the Cedar Rapids area, give us a call at the number above, email customerservice@daltonphc.com or schedule an appointment online for ductless AC installation in Cedar Rapids.