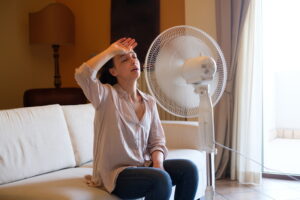 Do you know if your air conditioner is in good enough shape to handle the warmer temperatures coming our way? Before you say "mine is fine," let us ask you a follow-up question… have you scheduled spring maintenance for your system yet?
Maintenance allows our technicians to fully inspect, clean, and adjust the components that need it, helping your system operate as effectively and efficiently as possible, for as long as possible. So, if you answered "no" to our follow-up question, now is the time!
Maintenance has a ton of benefits, not the least of which is helping you avoid up to 85% of the repairs your air conditioner might ever need! But regardless of whether you've had maintenance done recently or not, it's still wise to be aware of the signs that you need AC repair. Read on as we cover some of those signs.
Short-Cycling
Short-cycling is the name given to the process where an air conditioner, or a heater, turns on and off rapidly, never actually completing a full cooling cycle. Not only is short-cycling the sign of an already existing problem, it can exacerbate wear and tear on your system and cause further problems for its functionality, performance, and efficiency.
If you notice your system short-cycling, there are a couple of things you can do first before calling us. First, check your air filter. If it's too clogged up, it can restrict airflow, meaning your air conditioner won't be able to draw in enough air to go over the coils. You'll also want to check and make sure that the outside unit is unobstructed–there isn't anything like tree branches, leaves, lawn mulch, etc. on the system or immediately surrounding it.
Both issues can cause a system to short-cycle, but if you've checked this and it didn't resolve the problem, then it's time to dial our number.
Humidity Issues
Did you know that your central air conditioning system has some dehumidification properties? No, this doesn't mean that you should use your air conditioner as a dehumidifier–this can actually overwork the system and cause it to break down faster. To reduce ongoing and persistent humidity in your home, you'll want to invest in a whole-home dehumidifier.
Humidity problems can occur with or without a dehumidifier already in place, though, if there is a problem with your air conditioner. It could be a leak in the condensate drain, or again it could be a clogged air filter that can allow moisture to build up in the system, preventing it from being able to dehumidify at all.
Unfamiliar Noises
You can trust yourself when it comes to the noises you're used to hearing your air conditioner make. Anything out of the ordinary is reason enough to give us a call. This is because something like banging could mean a loose part… hissing could mean a refrigerant leak… screeching could mean loose motor bearings, etc.
These can all start out as minor, and very fixable, problems. But let them go on too long and you could have an air conditioner break down on your hands.
The above-mentioned repair needs are just a few of the things that can happen with your air conditioner. If you ever notice anything troubling at all, please don't hesitate to give us a call!
At Dalton Plumbing, Heating, Cooling, Electric and Fireplaces, Inc., your comfort is our promise! To set up an appointment for AC repair in Cedar Falls, IA, give us a call at the number above, email customerservice@daltonphc.com or schedule an appointment online.