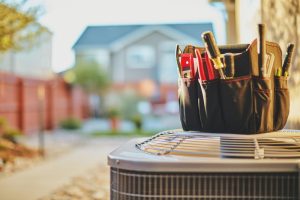 The short answer to this is, "yes," but allow us to explain…
With summer weather quickly on its way, you'll be running your air conditioner on a daily basis soon enough. This means your monthly electric bill will go up, but it doesn't mean you should resign yourself to paying more than necessary to stay comfortable in your own home.
Even if your air conditioner seems to be performing just fine, you can reduce your monthly bills by investing in a routine preventive air conditioning tune up. Keep reading to learn more!
Maintenance Boosts Energy Efficiency
Annual maintenance (or biannual, if you have a year-round heat pump or ductless system) enables your cooling system to run more efficiently and produce conditioned air using less energy.
This is accomplished a few ways, none of the least being that your coils are thoroughly cleaned during maintenance. This removes the accumulation of dirt and other debris, including mold.
Dirty air filters can also make your system work too hard to produce the cold air you deserve (though fortunately, you can change this on your own).
Lastly, if your ductwork has any loose connections or tears in it, you could be losing a significant amount of conditioned air, and yet still be paying for it. Duct repair is a separate service, but we'll certainly check on your ductwork during your maintenance session.
Maintenance Means Fewer Costly Repair Needs
Most issues with an AC system actually start well before they're noticeable to the average, untrained eye. For example, it might not seem like a big deal if your AC seems to be producing a little water, but this could be the sign of a condensate line leak, or it may not even be water at all and you could be facing a refrigerant leak.
Or, your air conditioner might be making strange sounds, indicating fan motors or bearings wearing down. While these can all be simple fixes, if you skip maintenance and let them go on for too long, it can create a domino effect, leaving you with much more severe and costly repair needs.
Other preventive maintenance tasks include making adjustments to prevent repair needs like adjusting and tightening belts, checking fluid levels, and cleaning and adjusting the fans. A little work upfront before the cooling season begins can mean a world of difference for your air conditioner.
Maintenance Increases AC Lifespan
No air conditioner lasts forever, as much as we wish this was the case. It's reasonable to expect yours to last 10-15 years. However, regular maintenance will at least make sure it makes it that long.
Ask About Our Home Comfort Membership Plan
This is our maintenance program. In addition to 24-hour emergency service, and the peace of mind that comes with knowing your air conditioner is in fantastic shape, participating in our membership program grants you discounts on services and repairs, discounted after-hours fees, exclusive member-only incentives, and more!
At Dalton Plumbing, Heating, Cooling, Electric and Fireplaces, Inc., your comfort is our promise! To set up an appointment, give us a call at the number above, email customerservice@daltonphc.com or schedule an appointment online.