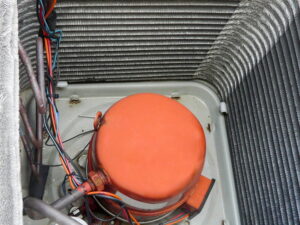 There are a number of different problems that can afflict your air conditioner as the years go by. This is especially true if you don't keep up on your annual maintenance appointments—or biannual if you have a heat pump system. Given how hard and how long your air conditioner has to work, you could find yourself facing issues such as a refrigerant leak, failed capacitors, and damaged ductwork. Fortunately, most of these repairs are relatively simple fixes for our HVAC professionals.
There's one air conditioner problem, however, that's especially unpleasant to face—and that is a broken down or damaged compressor. The compressor is considered the "heart" of your air conditioner, and when it breaks down you aren't just faced with a repair need—the truth is, you may need to replace your air conditioner altogether. Why is this? Read on!
The Compressor Is the Most Expensive Air Conditioner Part
This is the main reason we suggest that if and when your compressor breaks down, you look at your AC system as a whole. You can always use our help to determine if it will make more economic sense to upgrade the cooling system. First, before you decide on anything, ensure you're working with trustworthy and experienced technicians who've proven themselves more than capable of diagnosing air conditioner problems accurately.
Compressors, which are responsible for compressing the refrigerant within an air conditioner, and often some of the most commonly misdiagnosed component issues. But assuming that you have already determined you're dealing with a compressor problem, the first thing you want to do is check to see if the system is still under warranty. If the compressor is under warranty, then you won't have to pay to have it repaired or replaced, you'll only need to pay for the labor needed for the job.
If the warranty is still good, then you're in good shape. This reality isn't very likely though. So assuming you don't have warranty coverage, it's time for us to talk to you about a full system replacement.
Factors for you to consider include your initial budget as well as your long-term budget from month to month. AC units—the indoor unit and outdoor unit—are made to work with each other, and this means that they accumulate wear and tear together. So pairing an old evaporator unit with a brand new condenser/compressor unit can lead to problems, and premature system replacement anyway.
How To Know If You Have a Bad Compressor
There are a few pretty apparent signs that something is amiss with your air conditioner's compressor. The biggest indicator to watch for it when you aren't receiving enough cool air. Your air conditioning system needs refrigerant flowing into the evaporator coils to be under very high pressure, and if this isn't the case, then your system can't cool the air enough which leads to a whole host of additional problems,
At Dalton Plumbing, Heating, Cooling, Electric and Fireplaces, Inc., your comfort is our promise! To set up an appointment for air conditioning repair in Waterloo, IA, give us a call at the number above, email customerservice@daltonphc.com or schedule an appointment online.