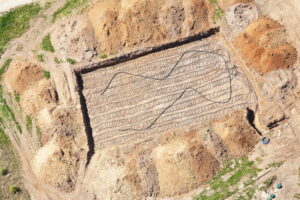 More and more homeowners throughout the Cedar Rapids area are seeking ways to cut expenses and explore alternatives to their current HVAC methods in order to do so. Geothermal energy can often get overlooked, with folks assuming that it's "just as expensive" as any other type of air-source heating and cooling applications.
But this simply is not the case. Geothermal cooling and heating may be the perfect solution for your home. Below, we've outlined how this might be the case. If you want to keep your home as comfortable as possible, as affordably as possible, read on!
What Is Geothermal?
A geothermal heating and cooling system is a type of heat pump. A heat pump system works very similarly to a traditional central air conditioner–it draws heat out of your home, puts the air through a refrigerant cycle in order to cool it off, and returns chilled air into your home. The big difference is that a heat pump's operation can be reversed–that is the refrigerant can flow one way or the other. So depending on what mode it is set to, it can heat or cool your home.
The difference between a traditional heat pump and a geothermal system is that while the former relies on the temperature of the air either inside or outside of your home in order to operate, the geothermal system relies on the steady temperature of the earth below your feet.
How Does Geothermal Work?
Essentially, what a heat pump does is that it transfers heat rather than generating heat, unlike a traditional furnace system. With a standard heat pump, this means transferring heat out of the home during the summer, and from the outdoors to the indoors during the winter. As you might imagine, it can struggle during the winter to work as efficiently as possible as a heating system.
Let's face it, it gets cold in our area during the winter months! A geothermal system makes a great option for homeowners as the temperature of the soil does not vary nearly as much as the temperature of the air in any given season. Loops are installed underground (making a geothermal installation ideal during new home construction, but homes can also be retrofitted) and if properly and professionally installed, can last many decades.
What Are the Benefits of a Geothermal System?
There are a number of great benefits to using a geothermal system! These benefits include, but are not limited to:
Reliability: As we mentioned above, a standard heat pump can sometimes struggle depending on the temperature of the air outside. A geothermal system, however, doesn't depend on the temperature of the outdoor air and instead depends on the steady temperature of the earth.
Reduced Carbon Footprint: Using a geothermal system can significantly reduce your home's carbon footprint, since it does not require combustion, unlike fossil fuels.
Low Cost: A geothermal system is on the costlier side to install, however, where you'll see the cost difference is in your monthly energy bills.
At Dalton Plumbing, Heating, Cooling, Electric and Fireplaces, Inc., your comfort is our promise! To set up an appointment or to learn more about geothermal systems in Cedar Rapids, IA, give us a call at the number above, email customerservice@daltonphc.com or schedule an appointment online.