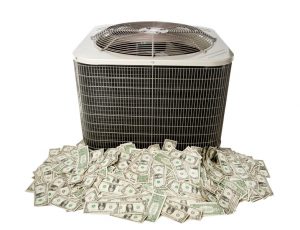 Summer is just around the corner, and with it comes warmer temperatures that will require the use of a fully functional and efficient air conditioning system. When that familiar warm air and humidity hits us, you'll want the peace of might that you are prepared as you can be. If you have an AC system that's about to call it quits though, then now is the time to consider a Janesville, IA AC installation.
But, How Much With a New Air Conditioner Cost?
We wish we could give you a simple answer to this question. The fact of the matter is, however, that the cost of an AC installation is dependent on many factors. For instance, the installation of a ductless system could potentially cost more than installing a central AC system. But if you don't already have ductwork—or if your ductwork is damaged—to support a central system, this will make the installation more complex and likely more expensive.
We're happy to help you decide on the right kind of cooling system for your specific home and needs. In the meantime, we're happy to share what pricing factors you should consider when making this purchase.
Energy Efficiency: One of the biggest factors to consider when purchasing a new cooling system is how efficiently it operates. Each AC system comes with a SEER (Seasonal Energy Efficiency Ratio) rating, which lets you know its level of efficiency. The lowest SEER rating available on the market now is 14, with the highest being 20. Naturally, the highest rated systems will run the best, but of course you'll want to ensure that your system is a good match for your home and your budget.
Air Ducts: As we mentioned above, if you have or want a central air conditioning system, you will need ductwork in place. Perhaps you already have air ducts snaking their way through your home. That's great—but what condition are they in? Were they installed by HVAC professionals? Do you know if they've accumulated any damage over the years? If you have conditioned air escaping through ductwork breaches, then your central AC system cannot possibly perform efficiently, no matter how new of a system it is. Ductwork damage needs to be repaired prior to your new central AC installation, which will impact the cost of said installation.
Size of the Unit: The bigger the better, right? No, actually. Unfortunately, this is a common misconception that leaves many homeowners with a system that short-cycles, or turns on and off rapidly. This is very inefficient and will end up costing you more than you should be paying in monthly energy bills. Going too small is bad too—too small of a unit cannot possibly cool down a large home.
Energy Rebates: Almost every community or municipality reimburses homeowners for installing high-efficiency appliances, since the reduced energy usage helps the environment (and it helps your wallet, too!) Check out programs in your area for more details.
At Dalton Plumbing, Heating, Cooling, Electric and Fireplaces, Inc., your comfort is our promise! To set up an appointment, give us a call at the number above, email customerservice@daltonphc.com or schedule an appointment online.