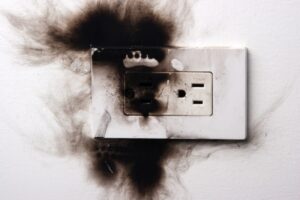 The electrical system of your home is likely something you take a bit for granted. Flip on a switch and the lights come on… plug in the toaster and it works! Plug in your phone's charger and you're all set…
But what if none of those things worked? Or what if something was wrong that was risking your home's safety as well as electrical efficiency? If you have an older home, this is a very real possibility!
Read on as we uncover the 4 common electrical issues for older homes: flickering lights, tripping circuit breakers, an outdated electrical panel, or outdated outlets.
Flickering Lights
Chances are, your house is not haunted. In fact, the explanation for flickering lights is a lot more mundane than that–your home is experiencing short power surges. An alternative cause is frayed wires. Whichever issue is the cause, both need quick attention from an electrician.
The first thing you can do is unplug some lights and plug them into different outlets to redistribute your lighting. If this isn't possible, or if you've tried this and it didn't help, then it's time to call in our electricians.
Circuit Breakers Tripping
The circuit breaker panel, also called the electrical panel, routes all the incoming electrical power into different circuits. Breakers on those circuits trip if a voltage spike passes through the circuit, cutting off power to avoid damage to your electrical system.
An occasionally tripped breaker is okay–in fact, it's likely to happen with really powerful appliances, such as your air conditioner or heating system. If it happens all the time, then this is a problem, and if you have circuit breakers constantly tripping, it's a sign that the panel is overloaded and needs an upgrade.
Outdated Electrical Panel
In some cases, like we just mentioned, your electrical panel will need an upgrade. In addition to constantly tripping circuit breakers, you'll notice indications like scorch marks on the panel or on outlets. You may even smell an acrid odor coming from the panel.
A good rule of thumb here is if your electrical panel is over 10 years old, it's probably time to have an electrical inspection done and consider an upgrade.
Outdated Outlets
If an outlet fails, don't keep trying to use it to see if it will start to work. GFCI outlets have a "reset" button on them for when there is a power surge or if the outlet gets wet. If your outlet is dry, however, the reset button isn't working, and you've tried resetting the circuit breaker, it's likely that your outlet needs replacement.
Also, if you don't have GFCI outlets in your home, it's time to give us a call. These are a requirement in modern homes, in all spaces that have water, including your bathrooms, laundry room, and potentially even your garage.
At Dalton Plumbing, Heating, Cooling, Electric and Fireplaces, Inc., your comfort is our promise! To set up an appointment in the Cedar Rapids area, give us a call at the number above, email customerservice@daltonphc.com or schedule an appointment online for professional electrical repair in Marion, IA.