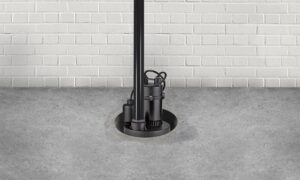 This is an excellent question, but it's easy to be fooled by it.
Shouldn't you just replace your sump pump when it's broken? This is likely how a lot of our customers are responding to it and it makes sense. If your sump pump were like any other appliance, a television or a washing machine, you'd just replace it when it breaks down. But it's not just like any other appliance, it's special and requires different care.
Your sump pump is a preventative appliance, meaning it's designed to prevent catastrophes from happening (like a basement flood). This means that if it's not working, you need to know that it's not working, otherwise you risk losing a lot.
Not only should you schedule sump pump service in Cedar Rapids, IA when it's needed, but you should also be maintaining the system and ensuring that it's ready to be replaced ahead of the next torrential downpour.
Use the Average Lifespan
Sump pumps are only realistically supposed to last up to a decade. Beyond this, all bets are off and you might be playing with an unstable system.
Since sump pumps are preventative, there's no way to really know how much longer the system will work, since it's main goal is to activate when your basement would otherwise flood. Nobody wants to be caught in the position of not knowing that their sump pump had broken down only weeks before the next flood.
So, here's a good idea–get your sump pump replaced when it reaches the 7-10 year mark. This ensures that the system doesn't go beyond its recommended lifespan and you don't have to worry about the unforeseen consequences.
Get the System Maintained
What do you do if your sump pump isn't quite that old but you're not sure if it's in good condition? Get it maintained!
A maintenance appointment can be the perfect thing for our customers, since it allows us to inspect your system fully and give it a clean bill of health. Or, in the case of a faulty system, we can warn you before the next rainstorm so that your basement isn't in jeopardy.
Upgrade If Necessary
Sometimes home rennovations and changes require upgrades. If your sump pump is old and sized for a different basement or amount of space, it might be time for an upgrade. It doesn't really matter if your sump pump still works, an undersized or oversized sump pump is going to be a problem in the long run.
Always Replace It Early
If you're on the fence about any of these guidelines, here's a good rule of thumb. A sump pump needs to be prepared for the next time your basement is about to flood. If it's out of commission around then, then it doesn't matter if you get repairs afterwards, the damage might already be done.
Investing in sump pump repair or replacement early is always better than doing it late. This could be the difference between a flooded basement with thousands of dollars of damage, and just another Tuesday.
At Dalton Plumbing, Heating, Cooling, Electric and Fireplaces, Inc., your comfort is our promise! To set up an appointment in the Cedar Rapids area, give us a call at the number above, email customerservice@daltonphc.com or schedule an appointment online.