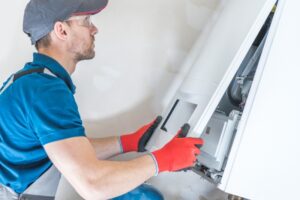 With temperatures already dipping below freezing, we hope that you've given some thought to the condition of your furnace. After all, you're using it on a regular basis and need it to work reliably, efficiently, and effectively.
The last thing you need is to be dealing with a last-minute repair need in the dead of winter when you need the system the most. But, can this really be avoided?
Yes, it can! The best method for preventing furnace repairs–well, the majority of them, anyhow–is to schedule annual maintenance for your furnace from a professional. Read on as we uncover just why this service is so important.
Yes, You Really Need Maintenance
It's always possible that your heating system will make it through winter without a maintenance session. However, it is likely not going to be in the greatest shape! Maintenance is one of the best things you can do for your furnace, so if you haven't scheduled this service yet this fall, now is the time.
When our professionals complete a tune-up and inspection, plus any small follow-up repairs that may be recommended to reduce wear and tear, your system benefits in many ways, such as:
We address wear and tear problems before they become a much bigger, emergency problem such as a complete system breakdown.
You can avoid up to 85% of the repairs your furnace may otherwise need without maintenance, over the course of the system's lifespan.
When your system is running more efficiently due to maintenance, you'll find yourself spending less money on your utility bills.
Do New Furnaces Need Maintenance?
The answer to this depends on how new your furnace is. If we're talking about a furnace you just bought in the last few months and only started using for the first time this fall, then no, you don't need this service as your system should have been inspected upon installation. However, if this is the second heating season you're using your furnace, even if it's just a year old, then you need to go ahead and schedule your first maintenance session.
Another thing to keep in mind here is that most manufacturer warranties only stay current so long as the system is professionally serviced. This means that if you have a repair need due to a manufacturer defect, but never had your system professionally tuned-up, then you'll be financially liable for the repair costs. 
Now Is the Perfect Time
You may wonder if you waited too long since temperatures are already downright chilly. But honestly, as long as your furnace is running, it's never too late for a tune-up. In fact, consistency matters a lot more than timing. As long as you're having professional maintenance done once a year, you'll have a furnace that stays in great shape and lasts as long as possible! 

At Dalton Plumbing, Heating, Cooling, Electric and Fireplaces, Inc., your comfort is our promise! To set up an appointment, give us a call at the number above, email customerservice@daltonphc.com or schedule an appointment for maintenance or furnace repair in Cedar Rapids online.