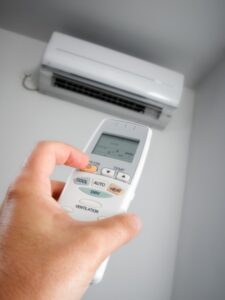 As temperatures start warming up, air conditioning talk is happening more and more. If you are in the market for a new cooling system, now is a great time to make that investment. It's never wise to rush into a purchase of this nature, since doing so could leave you with an inefficient or improperly matched AC system for your home.
There are many factors to consider when replacing an old air conditioner. Do you also need to replace your furnace or boiler? Are you looking for ways to increase efficiency throughout the year rather than just in the summertime? Then a ductless system may be a great choice. If your heating needs aren't urgent though, and you've always had a central air conditioner, you might want to stay the route.
Read on to learn the benefits of each and to get our viewpoint on which type of AC is best!
Benefits of Central AC
Central air conditioners have come a long way throughout the years in terms of technology and efficiency. Today's models are more efficient than those of even just 10 years ago. Depending on the brand you get, you can expect the highest SEER (Seasonal Energy Efficiency Ratio) ratings you've ever seen for a residential air conditioner, with some systems going as high as 17-24 SEER.
You can take efficiency a step further by getting an inverter drive or a variable speed air conditioner. These systems operate at different fan speeds so that on a mildly warm day you can use your air conditioner without using it at "full blast" and wasting unnecessary energy.
But what if you are also considering a heating system purchase? Doing both of these purchases at once is a lot for one budget to handle, no matter how healthy yours is! This is why more people are going with a heat pump system–the ductless system to be more specific.
Benefits of Ductless AC
Ductless air conditioners are also heaters! The primary features of these mini-split systems are:
They don't require ductwork to operate, and therefore eliminate some of the indoor air quality problems that can come from damaged or dirty air ducts, and
They operate on heat pump technology, transferring heat from one area to another. They have a component called a reversing valve that enables them to function as both a powerful air conditioner and an efficient heating system.
Each air handler of a ductless system–an outdoor unit can be connected to up to 4 indoor air handlers–can be independently controlled from one another too, meaning that if you only want to heat or cool one room, or if different household members have different cooling and heating preferences, this system can accommodate. This makes them highly versatile and efficient.
Which Type of AC Is Best?
Now, which type of AC system is "best"? To be honest, it really depends on you and your needs. We can help you make an informed decision, but ultimately it will depend on the factors we named above, like whether or not you also need or want a new heater, if you already have ductwork that is in good shape (which would reduce the cost of central AC installation) and if you're looking to reduce indoor air quality issues.
The best thing you can do to make this decision easier is give our team a call!
At Dalton Plumbing, Heating, Cooling, Electric and Fireplaces, Inc., your comfort is our promise! To set up an appointment, give us a call at the number above, email customerservice@daltonphc.com or schedule an appointment online for service on your central air conditioning or ductless air conditioning in Cedar Rapids, IA.