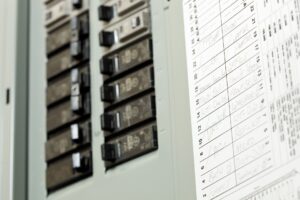 Every home in the 21st century needs electricity. Even those tiny, off-the-grid homes, usually have some kind of generator that gives them the power to charge a phone or keep the lights on. Electricity is what makes our homes modern, they give us access to appliances and heating, automatic dishwashing and laundry, and much more.
However, an electrical system can be dangerous when it's not installed or maintained properly. You've all seen these kinds of disasters in movies and television shows, where an exposed wire meets water or another exposed wire. There's a reason why surge protectors and grounded outlets are so important, and we're going to cover that topic today. It's possible to keep your home safe from electrical fires and hazards, it just takes professional help. So, let's discuss how an electrician in Marion, IA can help you with keeping your home safe.
GFCI Protection Is a Must
When you walk into your kitchen or bathroom, do you see an outlet with a little "reset" switch on it? This is good news, because it indicates that it's a "GFCI outlet" which stands for ground fault circuit interruption. These outlets are great in areas that use water, like bathrooms and kitchens, because they offer the maximum amount of protection against power surges, electrical shocks, and fire hazards.
Any time the outlet detects a sudden surge of electricity, like when your hair dryer touches water on the counter, it automatically interrupts the circuit so you're never in danger of an electrical hazard. These systems are perfect and they're also grounded, so you don't have to worry about power surges coming from the outside either.
If there's a room in your home that you think should have GFCI outlets, but it doesn't, then just let our team know and we'll install them.
Grounded Outlets Throughout the Entire Home
Back in the day, when grounded outlets first became commonplace throughout a home, they were usually only installed on the first floor. It was too expensive and too intensive to install them anywhere else, and the first floor was often where the most sensitive appliances and devices were being used (like televisions, laundry systems, kitchen appliances, and computers). Today, we use devices practically in every room, so it's not really the same as it used to be.
Now, we'd advise all homeowners to get every outlet in their home grounded. Not only will this protect your devices and appliances from power surges, but this kind of improvement is very affordable these days and extremely common.
Repair Frayed or Broken Wires
Few electrical hazards are as scary or unpredictable as frayed wires. As they get older and rub against certain surfaces, they can let out sparks and generate heat which can be a fire hazard. Frayed or broken wires, even if they're in a room you don't use like your attic, can still be a hazard just by existing in your home. Our team can remove them, replace them, and even turn them into wires that can connect to outlets and lights so you can use them again.
At Dalton Plumbing, Heating, Cooling, Electric and Fireplaces, Inc., your comfort is our promise! To set up an appointment in the Cedar Rapids area, give us a call at the number above, email customerservice@daltonphc.com or schedule an appointment online.