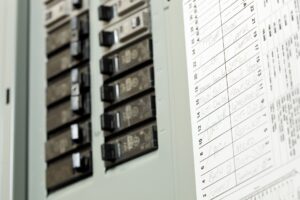 For a time, electrical panels were the new and improved version of a fuse box. Those old systems aren't really used anymore and you should first make sure that your home has an electrical panel before looking into repairs. But for most of us, that's already a reality.
Your electrical panel is the box that has all of the labeled circuits of your home in one location. It serves as a centralized hub, a place where you can always check to see if a certain electrical circuit is on or off, or you can even see how many circuits there are in terms of your power load. If all of the power of your house is going to one outlet, then you can identify which labeled part that is in your electrical panel for an upgrade.
But sometimes you'll notice bad things, like corrosion or a broken switch, and those are signs that your electrical panel in Cedar Rapids, IA needs repairs.
Broken Switches and Frayed Wires
The switches need two things in order to function in your electrical panel. They need to be labeled, so you can clearly see what switch belongs to what part of your home. This could be something you work with a professional on to ensure it's done properly. Your switches also have to work, since they're going to be necessary when a circuit trips or something gets shut off. Make sure your switches work and are labeled.
Your switches are not the only part to be concerned about though. Wires can be frayed and disconnected due to wear and tear or old age, and they'll require repairs if they're looking rough.
Corrosion
One of the worst problems to occur in an electrical panel is corrosion. This could be due to excess humidity, or it could be from a dripping pipe above, but basically, all of the sensitive metal components in your electrical panel are at risk of corroding and losing their integrity.
If you start to notice discoloration, rust, and visual signs of corrosion throughout the panel, then you'll know it's time to replace the system altogether. But until then, see if you can pinpoint one or two areas that look the most corroded and call a professional to have them replaced. It's possible to have just the most corroded and broken parts of your panel replaced if you're not ready for a full panel replacement.
Bad Handle Ties
The handle tie is what's used to connect two lines in your electrical panel. It's a metal component that continues the electrical charge where the two wires meet, and they need to be sturdy. If you notice that your electrical tie is in rough shape, or is just replaced with a nail that "does the trick" then you need professional help ASAP.
A bad electrical tie will not only impede your system's ability to provide your home with electricity, but it will also be a fire hazard. A nail or makeshift handle tie is exposed and thus can burn or shock anything it comes in contact with. Yikes!
At Dalton Plumbing, Heating, Cooling, Electric and Fireplaces, Inc., your comfort is our promise! To set up an appointment in the Cedar Rapids area, give us a call at the number above, email customerservice@daltonphc.com or schedule an appointment online.