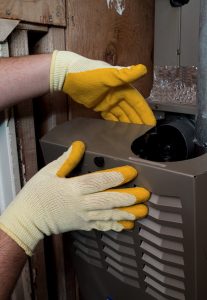 Temperatures are quickly cooling in our community, which means if you're not already, you'll be using your heater on a routine basis soon. Therefore, if you haven't already scheduled your heating maintenance in Waterloo, IA, now is the time!
During maintenance, our technicians will thoroughly inspect your heater, making sure that it is operating safely and doesn't have any need for repair. If repair needs are discovered, we'll let you know right away so that you can get them on your schedule before the weather gets too terribly cold and you have an interruption in service. Still not convinced? Keep reading to learn some of the benefits of maintenance.
Prevent Problems
A well-maintained heater will be a lot less likely to require repairs in the winter, when you need it the most. There's not a lot worse than calling in a technician in the middle of a cold winter evening and hoping that they happen to be available, and then having to wait when you find out they're out on another emergency service call.
The adjustments our technicians make during your maintenance appointment can help reduce wear and tear, which is why we advise that you schedule this service as early on in the season as possible (but so long as you're doing it once a year, that's more important).
Improve Efficiency
Maintaining your heater now means that when winter comes, you'll save money. Heater maintenance enables your system to run more smoothly than it might have otherwise. Cleaning the burner, for instance, allows for a smoother start-up, and your heater won't require so much energy to operate. You might be surprised by just how much you save when you have your heater regularly maintained.
Longer Lifespan
Studies show that heaters which receive routine tune-ups typically last longer than those that don't. You will likely need to pay for a repair here or there following up a maintenance visit, but in the long run your heater will work more effectively and efficiently as a result, allowing it to reach the end of its expected useful service life.
Increase Safety
Are you using a gas-powered heater? There is a risk involved. True, today's heaters are designed and built with customer safety in mind, but the only way they can remain safe throughout their years of use is if they are well maintained.
A gas furnace that doesn't get regular maintenance, for instance, might have a cracked heat exchanger that is allowing carbon monoxide gas into your home. Cracks aren't typically visible to the untrained eye, but can occur due to the temperature fluctuations and wear and tear over time. Exposure to this gas can lead to serious illness, or worse, and is nothing to be ignored or neglected. Even if safety is the only reason you have maintenance done for your gas heater, that's good enough!
At Dalton Plumbing, Heating, Cooling, Electric and Fireplaces, Inc., your comfort is our promise! To set up an appointment, give us a call at the number above, email customerservice@daltonphc.com or schedule an appointment online.