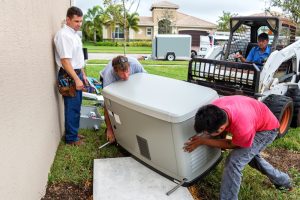 We're right smack in the middle of the coldest season of the year, which means it's the last possible time you want to be stuck without power. Could you imagine being without your heating system right now? Not only would it be uncomfortable, it could even be dangerous and unhealthy.
If your home is at risk of a power outage—and let's face it, if you live in the Waterloo area then stormy weather puts you at risk quite often—then you'll absolutely benefit from contacting our certified electricians for generator installation. Read on to learn more!
Why a Whole-House System?
A whole-house generator is a larger system compared to a portable generator. Portable systems are typically stored inside a home, and perhaps even inside a camper. Whole-house generators, however, are installed outside their homes much like a central air conditioner, and they are permanently wired into their homes' power systems.
Unlike a portable generator, a whole-home system doesn't rely on propane to provide power. Rather, the generator has its own natural gas line running to it, ensuring that the system always has the means to provide power.
The most popular type of whole-house generator is the automatic standby generator. This type of system monitors the amount of power running through the home's electrical system at all times. When there is a power outage, the whole-house standby generator activates automatically, and starts supplying power to the home. When the power comes back on again, the generator shuts itself back off.
What Are the Benefits?
One of the benefits to a whole house generator is that it automatically activates when the power goes out—there is nothing you need to do. But this isn't the only advantage! Whole-house generators can provide more than enough power to keep an entire house running when the power goes out. This means you'll still have access to your heater on a cold winter night, your refrigerator so that food doesn't go bad, and even medical equipment that might rely on electrical power.
With a whole-house generator installed, you can rest assured that your electric power needs will be met even in the middle of a large and prolonged power outage. A portable system simply can't give you this same peace of mind.
Professional Whole House Generator Installation
Homeowners should never attempt to install a generator in their homes by themselves, regardless of whether it's a portable system or whole-house model.
Since a whole-house generator requires its own natural gas supply, you may need a gas line installed—even if you don't though, handling a gas line is something that requires skill and expertise that only a trained and properly licensed technician will have.
Another thing to keep in mind is that whole-house generators are very large and heavy, requiring the efforts of multiple people to install it. If you want to have a whole house generator installed in your home, it's better to count on a professional to do it for you.
At Dalton Plumbing, Heating, Cooling, Electric and Fireplaces, Inc., your comfort is our promise! To set up an appointment, give us a call at the number above, email customerservice@daltonphc.com or schedule an appointment online.