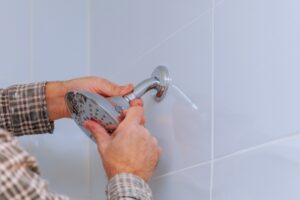 Springtime is just around the corner, and with temperatures warming up, many homeowners are considering remodeling projects in their living spaces. Chances are that if you've come across this blog post, you're one of these homeowners! Remodeling your bathroom is very popular, and can be a very fun, project. But a mistake that homeowners make far too often is trying to do this project completely on their own, with no help from a professionally trained plumber.
Trying to tackle a bathroom remodel on your own could possibly damage your plumbing system, or you could accidentally do part of the installation wrong because of improper measurements. But when a qualified professional, you'll have a team who is happy to share with you some of the most important considerations to make when planning a bathroom remodel.
Reach out to our team when you're ready, and in the meantime, consider these factors before jumping in.
Do You Have an Older Home?
When we say "older home" we're not talking about a 100-year-old home, necessarily. Even a home built prior to 1970s can have very old plumbing components…and aging plumbing pipes have a bigger chance of corroding, which can lead to wasteful and damaging leaks. This will ultimately leave you spending money you weren't planning on, and money we're sure you'd like to save!
When it comes to remodeling your bathroom, much of your plumbing system is already exposed, which makes this the perfect time to invest in repiping–at least for the bathroom that is currently being remodeled. You might want to consider whole-house repiping later on so you can avoid things like pinhole leaks in the future.
An additional benefit to repiping is that it enables you more freedom to design a new bathroom exactly to the specifications you want, since your pipes can work with the changes, instead of being something your plumbing has to work around.
What's Your Budget?
There are a number of small bathroom plumbing features you'll want to consider when determining the cost of your bathroom remodel. For instance, if you plan to move any of your plumbing fixtures, like your toilet or the sink, or if you want to install a larger toilet, then the cost can start going up.
Every plumbing fixture and appliance has to be properly fitted and aligned with the space in which they are installed. So, prior adjustments and construction could be needed in order to accommodate. Considering your budget at the start of your project is a wise idea, and we're happy to go over all your options with you.
Have You Thought About Water Efficiency?
Today's plumbing fixture and appliance installation include water-saving, low-flow items like showerheads, toilets, and other plumbing appliances. This helps reduce water consumption and therefore reduces your utility bills as well. Our team is here to help you choose the best, high-efficiency plumbing appliances on the market to help make your bathroom more functional and aesthetically pleasing!
At Dalton Plumbing, Heating, Cooling, Electric and Fireplaces, Inc., your comfort is our promise! To set up an appointment in the Cedar Falls area, give us a call at the number above, email customerservice@daltonphc.com or schedule an appointment online for professional plumbing service in Waterloo, IA.